5 Things That Increase Your Home's Value
Posted by Holly Peeples on Wednesday, January 12, 2022 at 9:44 AM
By Holly Peeples / January 12, 2022
Comment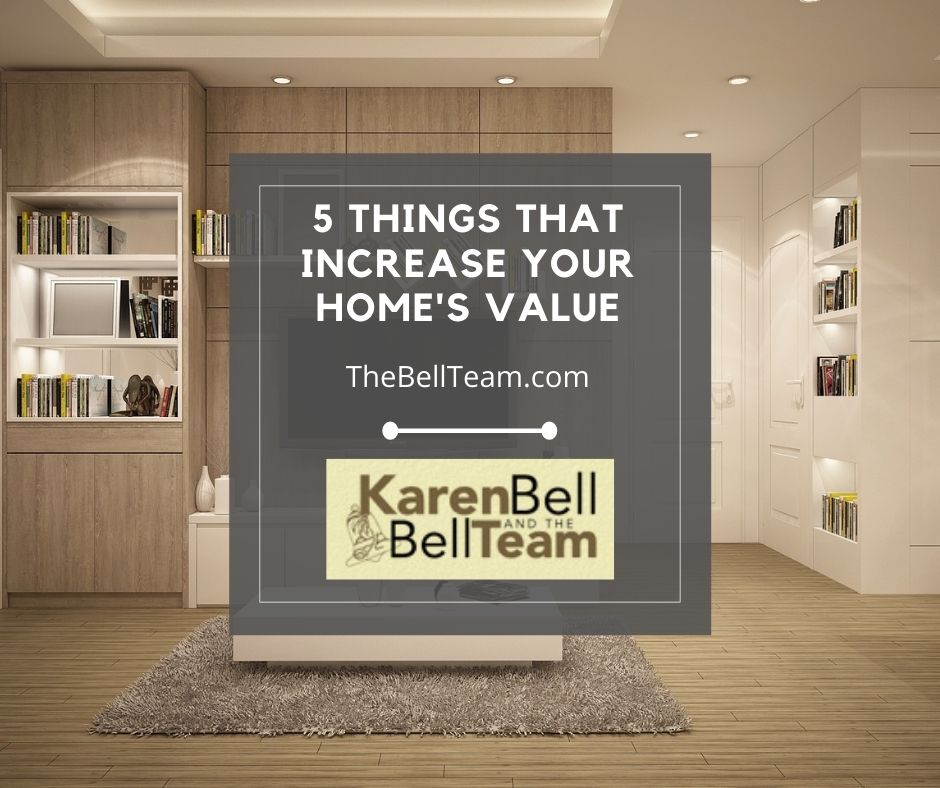 If you own a home or are considering buying or selling a home, you may be wondering what makes property value increase. Recent increase in property values across the U.S. can be attributed to supply and demand. And rightly so, but many more factors cause market values to climb and ultimately determine how much profit can be made on a sale. An increase in property value is called appreciation. Appreciation stems from a collage of factors influencing one another and ultimately coalescing to drive values up. In this article, we discuss the factors that cause property values to increase over time and how to obtain a home value estimate.
These include:
Location
You've heard that location is the biggest factor in home value. The physical characteristics of a home tend to depreciate as they age. It's the property itself that appreciates. This is why location is key. And there are a number of things that impact whether the location is helping or hurting property values. Historically, homes in urban locations with close proximity to employers, restaurants, shopping, and recreation hold high value. Community and neighborhood improvements such as the development of restaurants, parks, or mass transit can positively affect home value.
Supply and demand
As we've seen recently, supply and demand have a major effect on the housing market. Simply put, as the housing supply decreases, creating an inventory shortage, home values go up. A real estate inventory shortage means that there are fewer sellers than there are buyers. As the low supply of homes for sale meets strong buyer demand, buyers compete in bidding wars to secure a home from the limited inventory, escalating property values.
Real estate comps
As the sale prices of comparable properties (known as real estate comps) in your community climb, your property value also climbs. Real estate comps are properties in your neighborhood that have similar age, square footage, materials, features, and condition to your home. Appraisers and real estate agents use comps as part of their process in determining property value or listing price.
Size and usable space of your home
The greater the usable square footage, the greater the home value in the eyes of appraisers and buyers. The square footage of finished basements and attics are typically not included in usable space. But don't discount those added spaces as value adds just yet! If you expand your home's square footage with a home addition, finished attic, or basement, your property value improves to varying degrees.
Age and condition of your home
Because the physical characteristics of your home depreciate in value, a newer home will have a higher value than an older home. Home appraisers rate your home's condition based on the amount and degree of repairs required. Buyers in particular should take note of your home's age based on the quality and design of materials and fixtures, such as hardware, tile, and energy-efficient features. When you maintain your home from a structural and aesthetic standpoint, you improve your property value.
Sanibel Island and Captiva Island homeowners and buyers choose here because of the location and lifestyle. When selling, appealing to these features can really boost your sale. Call us for more information and our secrets to getting the most from the sale of your home.
More Tips for Homeowners:
Tips to Save Energy and Add Value
How to Cut Clutter in the Bathroom
6 Tips for Selling a Luxury Home