A Post Disaster Insurance Guide for Sanibel Homeowners
Posted by Holly Peeples on Tuesday, January 3, 2023 at 9:49:44 PM
By Holly Peeples / January 3, 2023
Comment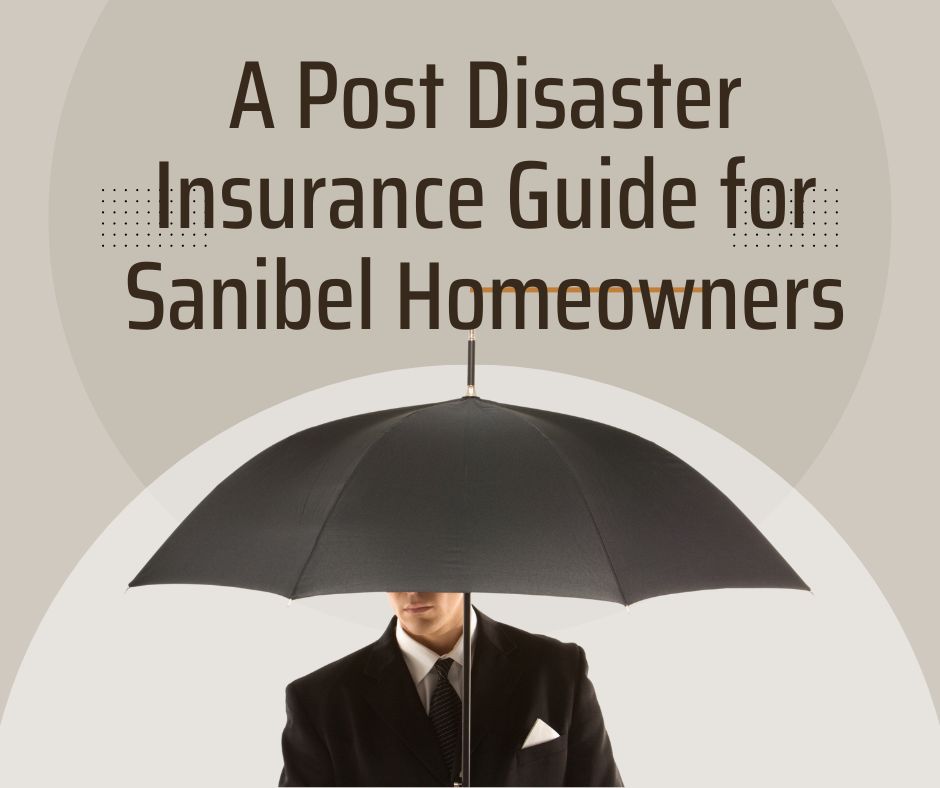 After a natural disaster has struck a home the majority of people depend on a homeowners insurance policy to help get them back to where they were before the storm hit. With the right knowledge of how to communicate with your insurance company in making a claim, you can shrink the time between disaster and full recovery. It is a good idea to glean as much knowledge as possible on how to effectively communicate with your insurance company post-disaster.
Helpful information for contacting your insurance company after a natural disaster
Contact your insurance company as soon as possible
Some Sanibel Island homeowners have been able to get back on the island and assess the damage to their property while some Sanibel homeowners may not have been to their homes since the hurricane occurred. It is always best to contact your insurance company as soon as you possibly can.
It is good to ask your insurance company for some helpful information to find out exactly what they are expecting from you in order to be able to help you with your claim. It is good to ask questions of them like what losses are covered through your policy including for additional items like housing while your home is unlivable, reimbursement for food costs, and maybe even reimbursement for things like clothing. Ask them questions like how long it will take to process the claim and how detailed you should be with your information in order to get a quicker response.
Making a thorough record of the damage
Before you begin any sort of debris removal attempts you want to make sure that you are taking videos and pictures of your property if possible. Along with these, you want to be writing down everything that you see has taken place in the home and you want to be as detailed as possible. For example, instead of just saying 2 inches of water on the first floor you want to say what caused the water to come onto the first floor and the actual construction elements of the home that were unable to withstand the circumstances of the storm that caused it.
If you have any before photos of your home those are extremely helpful to compare to the after photos to help the insurance company assess the damage and how they can help move you forward into the next steps of recovery.
Be readily available for open communication with all parties involved in the restoration
Once you begin the claim process you want to make sure that you are open and ready to communicate easily with your claims adjuster. Try to build a close friendly relationship with your adjuster this will help them and encourage them to want to work with you and communicate with you as soon as they can as you are fun and pleasant to work with.
This should also be a tactic used with any contractor that comes into your home. Make sure to be on top of communications with every contractor that comes into the house as well. The faster you get back to your claims adjuster the easier it is for them to help you if they have to wait for you to return their call they may move on to helping another claim while they are waiting and it could take longer to get back to you after you get back to them.
On another note, however, you want to make sure that you are not feeling rushed into hiring a contractor or agreeing to a settlement term and amount for reimbursement. Make sure to answer questions in a timely manner but make sure you were also comfortably taking your time in deciding who will be rebuilding your home and what an acceptable offer from your insurance company is to be able to afford those repairs.
Don't be afraid to interview more than one contractor
Many times your insurance company will suggest a contractor that has worked with them before or that they believe will do a good job and protect the insurance company's interests. Do not feel you have to take the contractor that your insurance company sends to your home. You are within your rights to ask for estimates from more than one contractor and even from contractors that are not sent to you by your insurance company. It is your choice who you hire as long as they fit the licensing parameters for state laws and insurance requirements.
Save everything and write everything down
You want to make sure that as the restoration plugs along you are keeping all receipts for everything purchased for the home, many times the contractor will do this but for anything that you went out to purchase you want to make sure that you are giving the contractor the receipts and saving a copy for yourself. This helps you to prove what was spent and purchased for the home to get reimbursed. You can also take pictures of the progress that is being made to help keep a record of how the home is being restored.
If you need more help making your initial claim or communicating with your insurance agent it is a good idea to call up a law professional that specializes in insurance claims. There are also some nonprofit companies that are able to help with advice.
For more information on real estate on Sanibel Island please contact us anytime