A Sanibel Homeowner's Guide to the FEMA Damage Assessment Process
Posted by Holly Peeples on Monday, December 19, 2022 at 5:08:12 PM
By Holly Peeples / December 19, 2022
Comment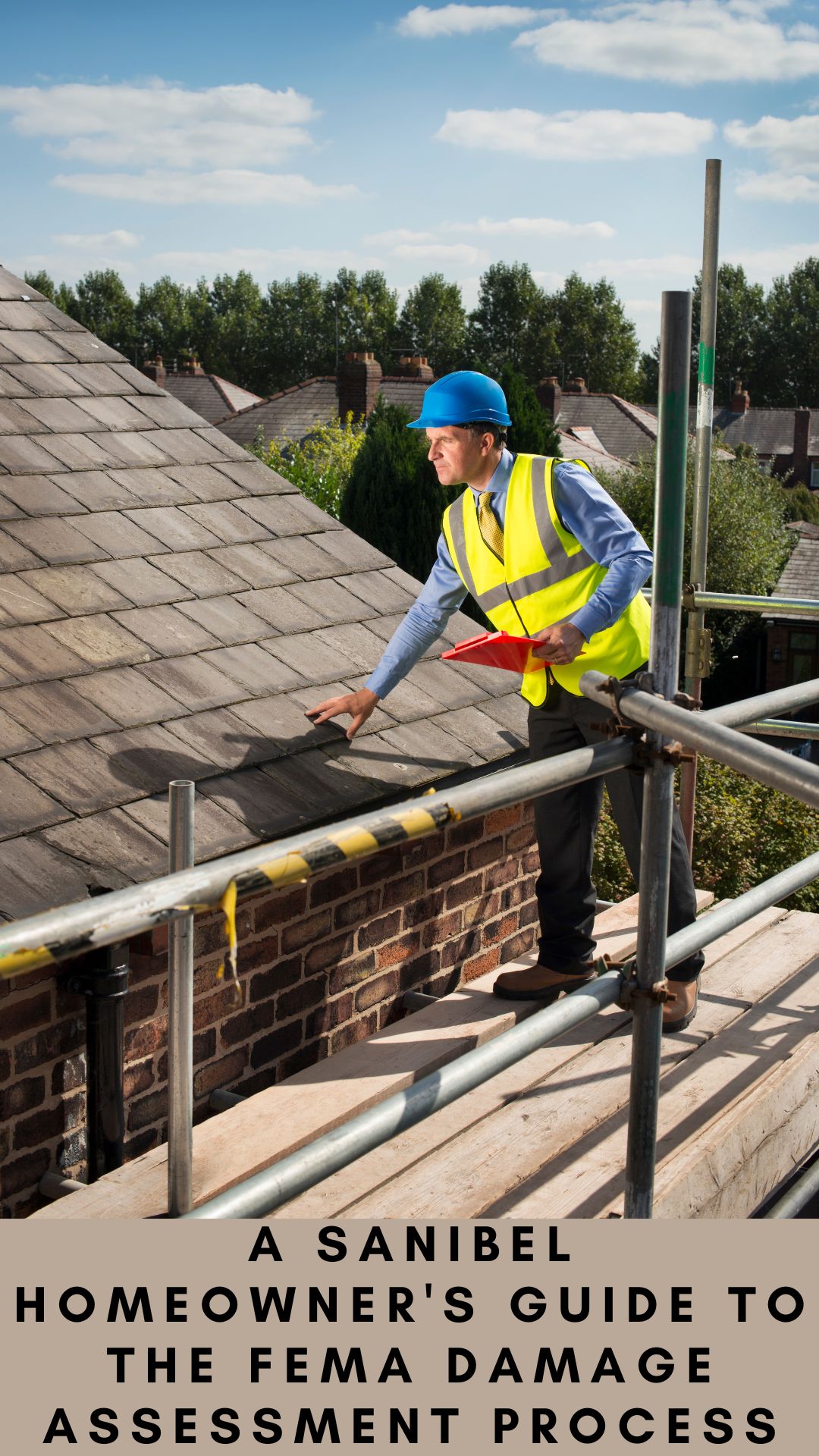 If you are a Sanibel Island homeowner needing assistance in restoring your home after the hurricane it is a good idea to seek assistance from FEMA. You can apply for FEMA assistance online at disaster assistance.gov or on the mobile FEMA app. You can also call the number 800–6 21–3362.
Once you apply for FEMA assistance and they have received your application expect to receive a phone call that will conduct an initial intake assessment. FEMA will assess the damage to the homes of applicants through on-site and remote inspections depending upon the severity of the damage you have reported in your intake assessment.
For FEMA to make an on-site inspection and applicant might be asked the following questions during the intake assessment call. These questions may ask whether you are currently able to live within the home, or whether your home was completely destroyed.
It is important to answer these intake application questions very carefully as it could affect the type and amount of assistance that FEMA will offer you.
How to properly assess what type of damage your property has been through and communicated to FEMA
The manner in which you answer the intake assessment questions will then determine the next steps that FEMA will take in offering assistance for you to restore your home. One of the most important aspects is to correctly assess the type of damage you have and correctly communicate that level of damage to FEMA.
Moderate to severe damage
If you are unsure if your home is safe to live in it is important to report that your home has received moderate to major damage. It is important to clearly state if you feel your home is unsafe to live in as a direct result of damage from the hurricane. This will help to schedule an on-site inspection. At this point, you will want to prepare documentation for the inspection.
Minor damage
If you report that you are able to live within your home and it has received minor damages a remote inspection conducted over a phone call might begin right away or through a follow-up call. Your first steps in receiving FEMA assistance will be based on these answers. If you report that you were able to live within your home you may not be able to receive certain types of FEMA assistance. It is good to make sure that you are relaying in as much detail as possible the damages your home has undergone.
Getting ready for a FEMA inspection
Regardless of the type of inspection that FEMA offers you want to make sure you prepare whether it is an in-person or over-the-phone inspection. Here are some steps you can take to prepare for any type of inspection:
Grab a piece of paper or use the notes feature on your phone and list out all the damages to your home beginning with the most severe
List out the type of property you live in whether it is a single-family home, townhouse, condo, etc. Include in the information for your property type this type of foundation and the number of stories in the property. Also mention if the utilities are on or off.
Take detailed photos and videos of all of the damage before you do any cleanup on the property.
Make sure to take notes and photos of specific damage especially the exterior of the home including windows doors and roof. Any issues with the electricity, gas, heat, plumbing, etc? The condition of the interior includes the floors, walls, and ceiling. If there is safe access to and from the home or if there is not. Any issues with the septic or sewer system? Any issues with the water supply? And any personal property damage.
Be sure to precisely describe what happened instead of noting water damage in the home make a statement that reads: due to rapid rainfall and area flooding from the hurricane rising water entered into the slab on grade home till it was 2 feet deep this fully covered the electrical outlets and destroyed all of the furniture and major appliances in the property. Including photographs with this complete description will only help to further your proof.
The better you describe the exact damage and what happened in the storm to cause the damage the better off you will be in receiving help from FEMA. It can communicate to them exactly what they could cover in helping you to restore your home.
What if you need to appeal a decision made by FEMA?
Not every homeowner will get a yes the first time they apply for assistance from FEMA. If you are a Sanibel homeowner that has been denied FEMA assistance after making a claim you should always appeal the FEMA decision. When appealing your decision always include the photos and a more detailed description of the damage and get any repair estimates from professionals that you can.
If you feel you would like some professional help filing a FEMA appeal there are certain agencies out there that specialize in helping homeowners with this type of appeal. One of these organizations is SBP. You can contact them at femahelp@sbpusa.org.
For more information on Sanibel Island real estate please contact us anytime.