Add Some Touches of Summer to Your Luxury Home Decor
Posted by Holly Peeples on Monday, June 14, 2021 at 12:43 PM
By Holly Peeples / June 14, 2021
Comment
It is always fun to add a bit of seasonal décor into your home to help bring some of the touches of the current season into your everyday life. Summer is characterized by warmth and sunshine, iconic holiday celebrations, and outdoor gatherings. You can bring these moments into your home with elegant decor and make the most of your season.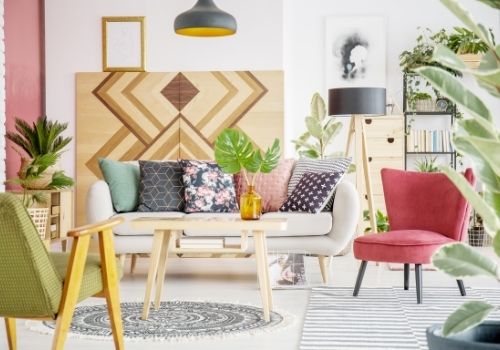 Here are some ways to embrace summertime by adding subtle touches of the summer into your luxury home's décor and help to make it feel lively and fresh every day and on days that you plan to entertain.
Create a Plan
Start by asking yourself what are your favorite aspects of summertime or start by checking out magazines or online idea boards that feature summer decorating. One way you could start gathering your ideas is to create a design board either with old-fashioned poster paper or online on a site like Pinterest. This is a place where you can either cut out clippings from magazines and gather samples or pin pictures to your online Pinterest board that you love and inspire you to help get your plan going.
Try Some Bright Colors and Bold Patterns
One of the best ways to invoke a seasonal feeling in your luxury home's décor is to bring in colors that are familiar with the season. You could start by adding colors that are found in nature and add in hints of traditional summer colors that are used in fashion and décor you find in stores. If you are hoping for a more subtle look you can go with complementary colors such as reds and oranges or bright blues and turquoise or you can go bold with contrasting colors like bright fuchsia pinks and lemony yellows or lime greens. Or you can try using mostly neutral colors such as various shades of whites and cream with just a very slight pop of a favorite bright color to keep it subtle yet still interesting and fresh with the season.
Patterns that help us to feel that summer mood include florals, stripes, gingham, and even some animal prints. If you are nervous about bringing patterns into your home you can try it on a small-scale pattern that is very subtle.
Use Plants and Flowers
Bringing in plants and flowers is a very easy way to bring the summer feel inside your luxury home. Even just adding a vase with fresh-cut flowers or greenery to your tables, mantle, kitchen counter, or bathroom counters can add a lot of summer life and vibrancy into a space.
Choose Summer-y Materials
Some materials give more of a summer vibe such as wicker, teak, pearl accents, oyster shell, terracotta, linen, and other woven fabrics. Incorporate these into your furnishings both inside and out to bring a touch of summer to your home.
Use Fresh Fruits
Using fruit to place in decorative accent pieces will not only bring pops of bright summer color but fresh and happy inviting smells as well. For example: using fresh limes to line a flower vase or just sticking a bowl of mixed citrus fruits in the center of the table.
Seasonal decorating in your luxury space does something to make your luxury home feel more cheery and inviting and invoke a bit of happiness and comfort that will have you loving your home just a little bit more.
When you're ready to upgrade your luxury home or downsize to a beach home on Sanibel Island or Captiva, give us a call at any time!