Are Mortgage Rates Still Expected to Fall for Sanibel Buyers Despite Recent Increases?
Posted by Holly Peeples on Monday, August 7, 2023 at 9:36:33 PM
By Holly Peeples / August 7, 2023
Comment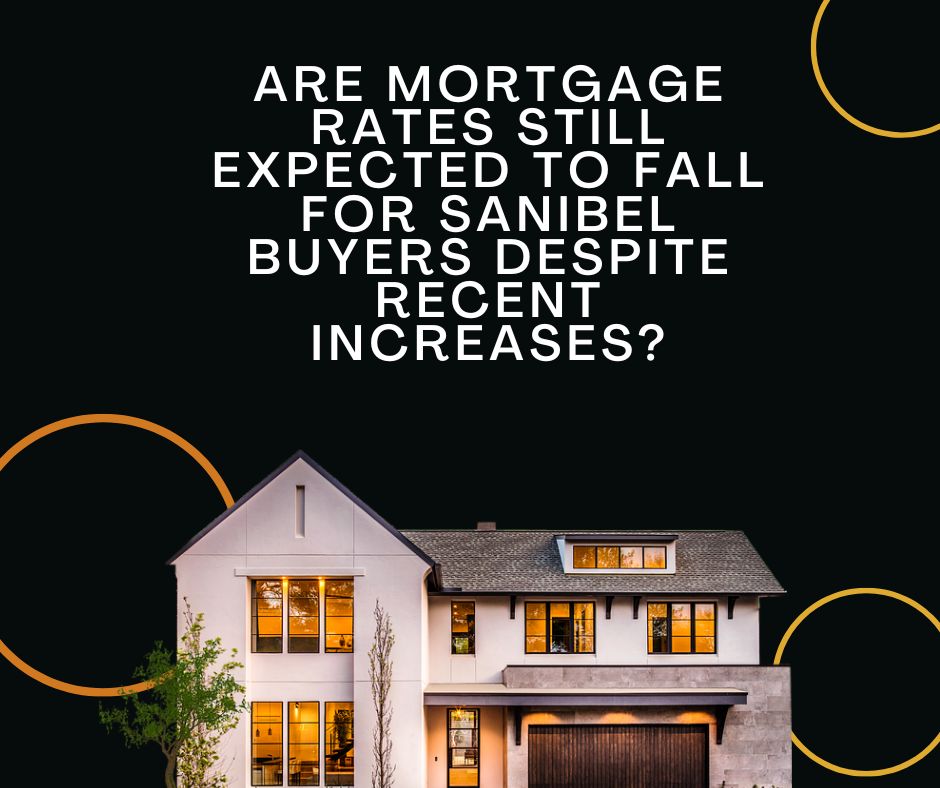 Hopeful Sanibel Island homebuyers saw a window of hope in the cost of buying a Sanibel home through the help of a mortgage when interest rates took a slight decrease and headlines predicted even larger ones on the horizon.
In the last few weeks, however, the Fed hiked rates and mortgage interest rates rose again. This has led some homebuyers to question if the original forecasting and expectations of real estate and financial experts will ring true. Will mortgage rates even come to a lower interest rate than they were when the year started? Mortgage rates hit the low 7% mark at the end of July. They came to 6.9% the week ending August 3, 2023. But this is still an increase from the 6.27% that mortgage rates hit back in April 2023.
What Fannie Mae Has to Say
Many housing experts and financial analysts have predicted that mortgage rates will decline at some point. But with the most recent actions of the Federal Reserve, it may not be until 2024 when mortgage rates do finally take a dip. Fannie Mae shared in July 2023 through the Housing Forecast that they expect the 30-year fixed-rate mortgage to hit around 6.8% around the third quarter. Their prediction for 30 year fixed rate mortgage by the end of the year is around 6.6%.
These numbers are significantly higher than what they predicted earlier this year in April. Fannie Mae forecasted just a few months ago that they foresaw interest rates coming down to 5.7% by the end of this year. What do they see in store for next year? Fannie Mae expects rates to come down to 6.4% by the end of the first quarter of 2024 and eventually end up at 5.9% by the end of 2024.
Why are Mortgage Rates Staying So High?
So why did so many financial experts get it wrong? How is it that mortgage rates are remaining stubbornly high despite where a majority of housing experts have predicted them to go? The biggest reason was touched on above. The Federal Reserve continues to approve rate hikes in the hope to battle inflation and bring it back down to a target of 2%. It is currently hovering at 3%.
In the July meeting the central bank raised the funds rate by a quarter percentage point hitting a range of 5.25% to 5.5%. The middle of this new target range is the highest rate that has been seen for the funds rate in the last 22 years. The next few months of decisions made by the Fed will be a large driving factor of where mortgage rates are destined for the rest of the year and into the near future.
How Should Sanibel Buyers Respond to Mortgage Rate News and Predictions?
With a slowdown in the originally predicted decrease of mortgage rates, does this mean that Sanibel buyers should give up their plans to buy a Sanibel home for the next few years until rates come back down? The answer is, it depends. In most cases, it's a surprising no. As a Sanibel buyer waits for mortgage rates to come down, home prices and values continue to increase. So if a Sanibel buyer waits another year to purchase a home at a one percent lower interest rate, they are still facing a larger home price.
Buying a home at a higher price when the mortgage rate may or may not be lower might not save a ton of money. It will also put you further behind in the amount of equity you could be earning on the purchase of a home right now. The best strategy for purchasing a home on Sanibel and anywhere else at any time is to make sure you are personally and financially ready to afford the home you need and want. Purchasing a home is always a sound investment in America no matter the market as long as the buyer goes into the purchase with a slow and steady wins the race mentality.
To know the true probability of purchasing a home on Sanibel it is best to talk with a local trusted real estate agent. They can talk about your personal affordability and ask about the type of Sanibel home you are looking for. A local agent can talk over the current local real estate statistics and help you discover financial help options and also help find a mortgage professional to discuss the fine details of current financing options to see if the purchase of a Sanibel home is attainable right now. You may be surprised.
For more information, on available Sanibel Island real estate and the possibility of purchasing a home on Sanibel contact me any time.