Are Solar Panels Worth the Investment on Your Sanibel Home?
Posted by Holly Peeples on Monday, October 23, 2023 at 5:15:20 PM
By Holly Peeples / October 23, 2023
Comment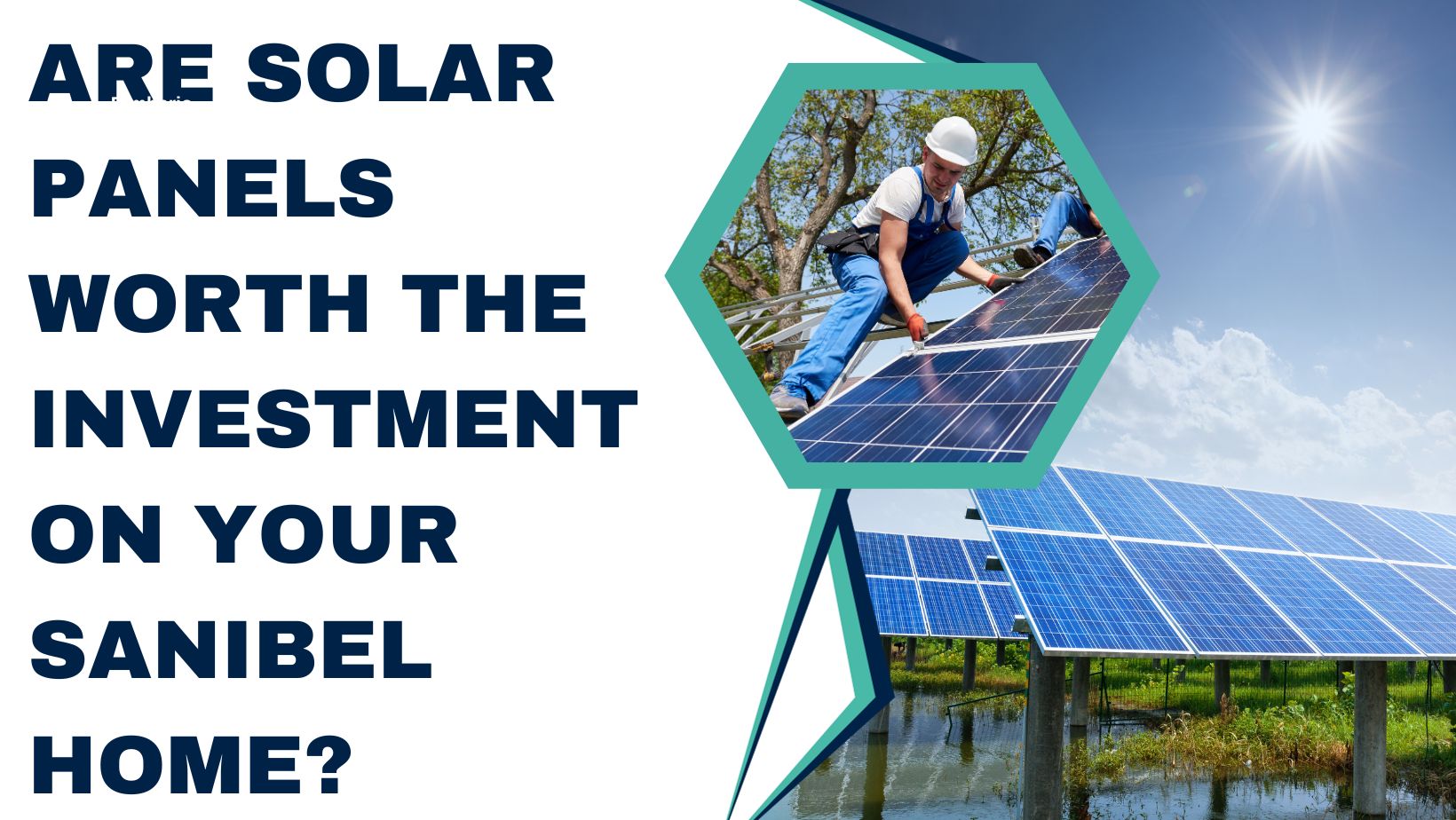 Some Sanibel Island homeowners are always looking for ways to save money on Sanibel homeownership. There are also a good number of homeowners wondering what they might do to add value to their Sanibel Island home and whether certain home improvements might increase their equity or allow them to list their home for a higher price when they one day decide to sell their Sanibel Island home.
A home improvement that many Sanibel homeowners wonder about is solar panels. Being in one of the sunniest locations on the globe, Sanibel homeowners feel they could save a good deal of money on energy bills while also increasing the value of their homes for the future. One of the most often asked questions is, "Are solar panels worth the investment on a Sanibel Island home?"
Purchasing solar panels can be a significant cost investment and it is wise to ask several questions and do your homework on the answers to those questions before hiring someone to climb up on the roof of your home and install costly equipment. Here are some tips for researching if solar is right for you.
ASK OTHER HOMEOWNERS ABOUT THEIR PERSONAL EXPERIENCE
If you know someone with solar panels on their house this is one of the best places to glean information. The homeowner can give you true and honest insight about their experience with solar panels. Information can be learned by looking at manufacturer information but you can miss out on some of the drawbacks or hiccups of the process. Ask them if they would do it again if given the option. Ask them what they personally feel the drawbacks of solar power and panels are. Ask them what was hard about having panels installed. Ask how much money it is truly saving them since they had the panels installed. Etc.
Do Homework on Installation Companies
You want to make sure that the company you purchase solar panels from and hire to do the work is reputable, licensed, and fairly priced. It is good to get referrals from other homeowners with panels. You can also check out The North American Board of Certified Energy Practitioners's list of certified solar panel installers. The Florida Solar Energy Industries Association also has its own list of preferred installers to check out. The more sources you look at the better. If one or two companies come up from different sources these are the ones to start with. Make sure to verify licensing and insurance on every company.
Learn About the System Your Home Needs and What the Roof Can Handle
Each home is different and as such will require a different amount of power to keep the systems within it running. It is good to research the amount of power your home will need and what type of solar panel system will generate this amount of power. After finding out this information you want to determine if your roof can hold the weight of the system your home will need. You will also need to know what condition the actual roofing is in. A solar panel system can last around 25 years, but you don't want to stick that on top of a roof that will need replacement in 5 or 10 years.
Find Out the Cost and Do the Math
When you know the type of solar panel system your house needs and what your roof structure can handle, you will want to get several quotes on what it would cost to install it and do some homework on the cost to maintain it. It is a good idea to get more than one price quote from the reputable companies you researched earlier. If you will need help paying for the system you will want to look at loan options.
Some states offer tax rebates or assistance in purchasing solar panel systems. This can be very helpful to check out how much money you could get back or be helped out with. When you know the cost of the system and what method you will use to pay it off you can then calculate the break-even point to see if the system is worth the substantial investment to you. For some Sanibel homeowners, the initial cost may outweigh the benefits, especially if you plan to move before paying off the cost of the system.
Knowing everything you can about home improvement before making the decision to invest the money in it is key, especially if you have plans to move out of the home you are improving someday.
If you are considering selling your home and are interested in finding the amount you could potentially sell your home for please contact me. I am a local Sanibel realtor ready to help you with the sale or purchase of your Sanibel property. Contact me anytime for help with Sanibel Island real estate.