Creating Wine Storage that Becomes a Design Feature in Your Home
Posted by Holly Peeples on Monday, September 20, 2021 at 11:04 AM
By Holly Peeples / September 20, 2021
Comment
Wine enthusiasts all around the world have recently begun creating gallery-like storage spaces that not only efficiently store their collections but also display them as art. In-home wine storage as a design feature was a luxury home concept that began in France in the 1970s. The first wine storage as focal art is attributed to a Frenchman named Georges Harnois.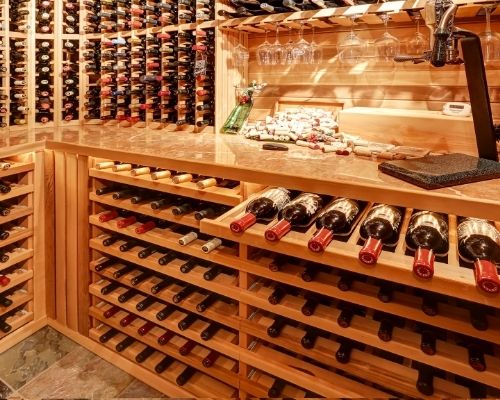 Harnois began this trend by digging a 6 ½ foot wide hole in his garage floor and lining it with wood and refining it with concrete modules. He created a spiral wine cellar which has evolved over the years.
Today most spiral wine sellers are not only stunning but involve a glass door so that the wine display can be easily seen and visually enjoyed inside the home. The technology behind a spiral cellar is pretty simple though the design seems complex and intriguing. Not only do spiral cellars look good, they are naturally ventilated and rely on inground cooling and on very few mechanics which also makes a spiral wine cellar eco-friendly. Having an eco-friendly feature that also does the work of organizing and displaying a wine collection has grown in popularity in many luxury homes in recent years.
Not all wine cellars that provide form and function in a luxury home are dug into the ground. Some other popular wine cellar design features that have become works of art include floor-to-ceiling glass-fronted wine walls and integrated display units that can expand forward and upward. In some luxury homes cultural art that can double as wine storage is gaining demand.
Some homeowners are asking wine cellar designers to work alongside commissioned artists to create a visually stunning yet one of a kind masterpiece to house their wine. They are looking for something that will add to a home's stunning luxury features while being functional instead of taking away from it, or having to take space from somewhere to be able to tuck away a wine collection. Homeowners are increasingly interested in being able to easily access their wine when they wish, including in the middle of a dinner party, instead of having to climb down into the cellar. Their wine is right at their fingertips in a visually stunning display that takes on the work of being helpful and organizational while still lending to the overall upscale design aesthetic of the room, rather than taking away from it.
One thing to be mindful of when creating a wine art display in your home is that it still is able to store the wine in the correct position and temperature so that the wine is in an ideal storage setting and being preserved in the best possible way. In some cases, homeowners have become so excited about the form of their wine storage that they neglect the function aspect.
An added bonus to installing wine storage that is not just functional but looks great, is that it can help to appeal to buyers later on should you ever decide to sell your home.
For more information on real estate in Sanibel and Captiva Islands please contact us anytime.