Ding Darling Refuge is Offering Free Programs to Sanibel in Summer 2023
Posted by Holly Peeples on Monday, June 5, 2023 at 6:42:21 PM
By Holly Peeples / June 5, 2023
Comment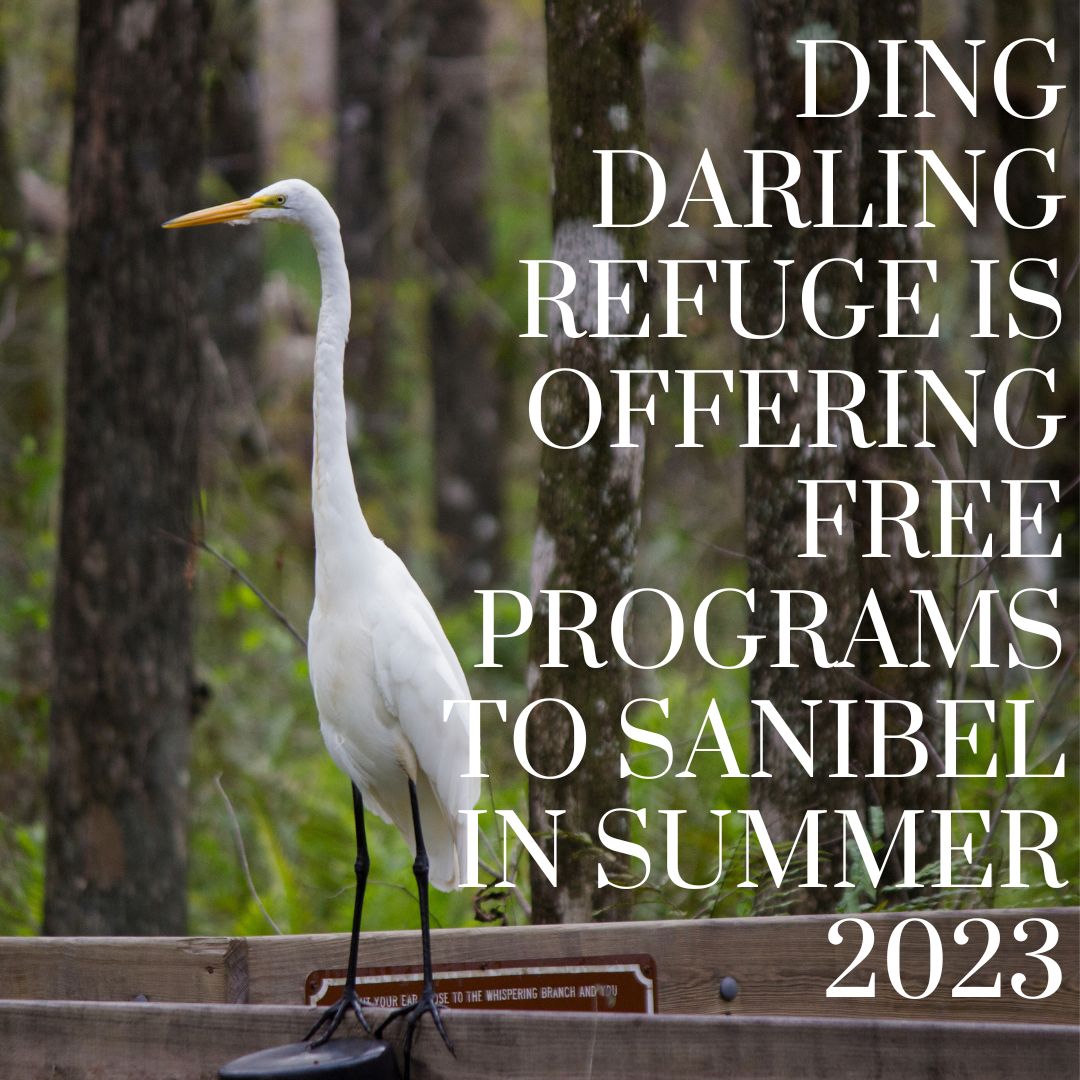 If you or a resident of Sanibel Island either year around or part-time, or are considering a move to Sanibel, or even if you were just visiting you'll want to take advantage of the free programs being offered by the JN Ding Darling National Wildlife Refuge this summer.
About the JN Ding Darling National Wildlife Refuge
The Wildlife Refuge is a natural conservation area and the largest undeveloped mangrove ecosystem in the country. It has been a refuge since 1945 when President Truman signed an executive order to make it so. The land was named in honor of Jay Norwood Darling.
This summer's free programs
This natural area of Sanibel is lovingly protected and preserved and is a huge asset to Sanibel Island. Natural space takes up a majority of Sanibel Island making it one of the most beautiful places to be in southwest Florida.
A few free programs planned for the summer of 2023 have a focus on educating and connecting Sanibel Island residents and visitors with the amazing nature of the island. Free programs will be offered from June 11, 2023, to August 5, 2023. These programs are not just limited to Sanibel Island there will be some great off-island program opportunities as well.
There will be three different programs offered within the actual refuge on Sanibel Island and a fourth program at Lakes Park in Fort Myers just across the water on the mainland. Those working at the refuge believe that continued education is incredibly important for everyone and that educational opportunities during the summer are incredibly important for school-age children to benefit their success when they return to school after the summer break. Programs will be centered around expanding the knowledge of everyone that comes to take advantage and to help teach about the refuge and the importance of wildlife and conservation.
Wildlife Drive with a Ranger
This program will be held on Wednesdays at 9 AM right inside the JN Ding Darling refuge. It consists of a one-hour caravan tour where participants follow the park ranger in their own vehicle. As you follow the Ranger through certain parts of the refuge there will be stops along the way to talk about different aspects of the refuge including operations, plants, and animals in specific locations. Anyone participating in the program receives free entry for the drive.
Rangers Choice
The Rangers Choice program happens on Thursdays at 1:30 PM in the Visitor and Education Center classroom. It is a 30-minute program and the focus topic changes every week. The focus topic is picked by the park ranger offering the program that week. The program is designed for all ages and gives everyone an opportunity to learn and ask several questions about the shared topic.
Reading at the Refuge
Taking place in the birding room at the center this program is designed for younger children and is scheduled for Saturdays at 11 AM. It is a fun time of reading nature-based books to learn more about things that happen at the refuge the program is just 30 minutes. There will be hands-on learning in addition to storytime. For example, there will be items to see in person like animal skulls or skins that will complement the book being read for that day.
Lakes Park Exploration in Fort Myers
This program will of course take part in Fort Myers across the water on Fridays at 8 AM. Participants will meet at the Whistle Stop Shop at Lakes Park to begin a one-hour walk through the park with activities including birding, scavenger hunts, games, and other kid-friendly exploration activities.
These free programs are a great stress relief
In addition to learning new things that you may not have realized are right in your backyard, you can connect with nature through these free programs. Getting out into nature is a great way to relieve stress. The refuge is proud to provide a way to relieve the stresses of bored children during the summer and to help residents to recoup and recover from rebuilding efforts after Hurricane Ian. Many Sanibel Island residents have found hanging out in the refuge to be a very helpful stress relief program.
Tips for showing up to these free programs
Though the programs are free and open to everyone it is suggested that you register before and arrive with plenty of time to spare as they do a fill-up. There is a limit to the number of participants each program can take. It is also suggested that you bring bug spray and sunscreen. It is a good idea to wear a hat and bring plenty of water. You can register for these free classes online at dingdarling.eventbrite.com