Ding Darling Sanctuary Is Closed, Looking For an Ecology Adventure
Posted by Karen Bell on Friday, June 7, 2013 at 8:58 AM
By Karen Bell / June 7, 2013
Comment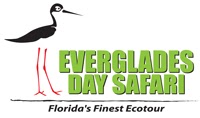 ?With the Ding Darling National Wildlife Refuge drive closing for the summer (May 20-October 1), where can visitors get there fix of mangroves, spoonbills, alligators, anhingas, herons and more? Don't despair! The Everglades Day Safari will continue to offer tours throughout the summer as we have since 1991.
Each trip includes:
Naturalist-guided transportation from Residence Inn Sanibel Gateway.
An amazing AIRBOAT RIDE.
A NATURE WALK through an ancient cypress forest surrounded by climbing vines, wild bromiliads and orchids.
A VAN TOUR through Big Cypress National Preserve where turtles, gators and birds of many species congregate.
A relaxing 90-minute BOAT CRUISE through the mangrove forest of Everglades National Park where Bottlenose Dolphin are seen regularly.
Delicious LUNCH including alligator appetizers.
Pete Corradino
Wildlife Biologist/Guide
Director of Operations
Everglades Day Safari
239-671-8373