Essentials for Bringing Curb Appeal to Your Front Porch
Posted by Holly Peeples on Monday, April 11, 2022 at 8:22 AM
By Holly Peeples / April 11, 2022
Comment
Whether you're setting up your home for the first time or getting it ready to sell you want to make sure that that amazing front porch you love so much is showcased as a welcoming spot with some of these essential items.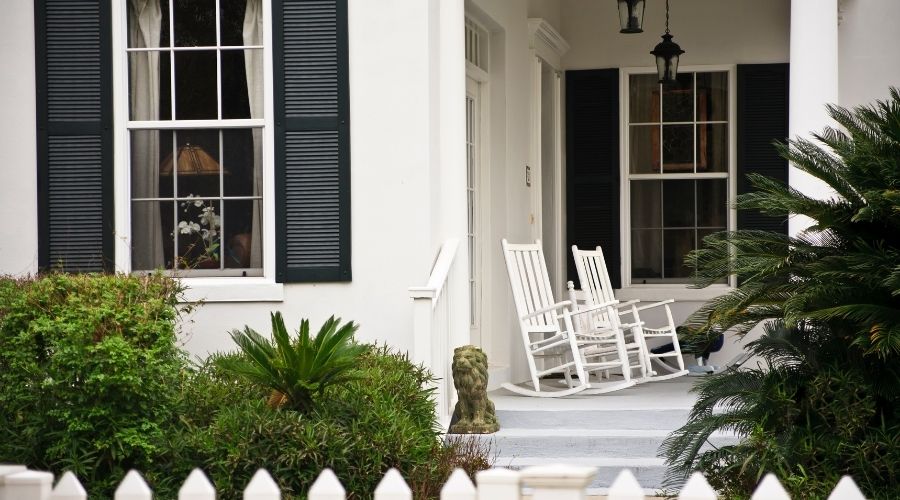 Plants in the foreground
The plants in your landscape can lead the eye up to your front porch area and draw it to the front door to create a welcoming space. Though the plants are not on the porch themselves they make a huge impact on how your front porch and front door feel and look from the street. Colorful plants draw the eye in with interest and if you are sitting on the porch, the screen of plants can provide a bit of privacy with a great view.
A great doormat
A new and fresh doormat can bring a lot of life and style to your front porch. Tired and worn-out front doormats communicate a tired and worn-out feeling to the home. You can add a luxury look by layering a traditional coir mat atop a larger patterned rug. This not only makes your mat functional it brings some style and interest to the area.
Some chairs in pairs
Some porches are not big enough to hold chairs, but if yours is it is highly recommended that you use a pair of chairs to help showcase the area's potential. You want to make sure you use a pair instead of a single chair to help buyers envision sitting and having a conversation.
A porch swing is a good idea too
You could also opt for a porch swing that makes someone want to come and curl up for a cozy time of people watching and conversation. Or maybe the most amazing cup of coffee in the morning as the sun is coming up.
Color coordination is important
A good rule of thumb for choosing the color scheme for decorations on your porch is to use the color of the front door or trim as a launching point. You want to repeat this color in accents such as cushions or pillows on the seating or in the under mat that is full of patterns and style at your front door. You could also use this color in some flower pots.
More: 10 Ways to Add Instant Curb Appeal
Potted plants
Green plants bring a lot of life and interest to your front porch. It could even give a healthy and energizing feel to the area. Seasonal flowers are also good but make sure that you anchor them with some substantial green plants like a couple of boxwoods or ferns.
Plenty of lighting
A well-lit porch helps anybody that arrives at your home to clearly see all of the great work you have put into the area. There's nothing more welcoming than a well-lit area that is easy to navigate especially on a very dark night. Make sure to have at least one light over the front door as well as some lights in any seating area you create. Another light over the house numbers is also a great touch.
For more information on luxury properties on Sanibel Island please contact us anytime.
More for Homeowners:
How to Prepare and Plan for a Luxury Pantry
Plants that are Great for Salty Areas