Expert Advice to Prepare for an Open House at Your Sanibel Home
Posted by Holly Peeples on Thursday, September 28, 2023 at 8:38 PM
By Holly Peeples / September 28, 2023
Comment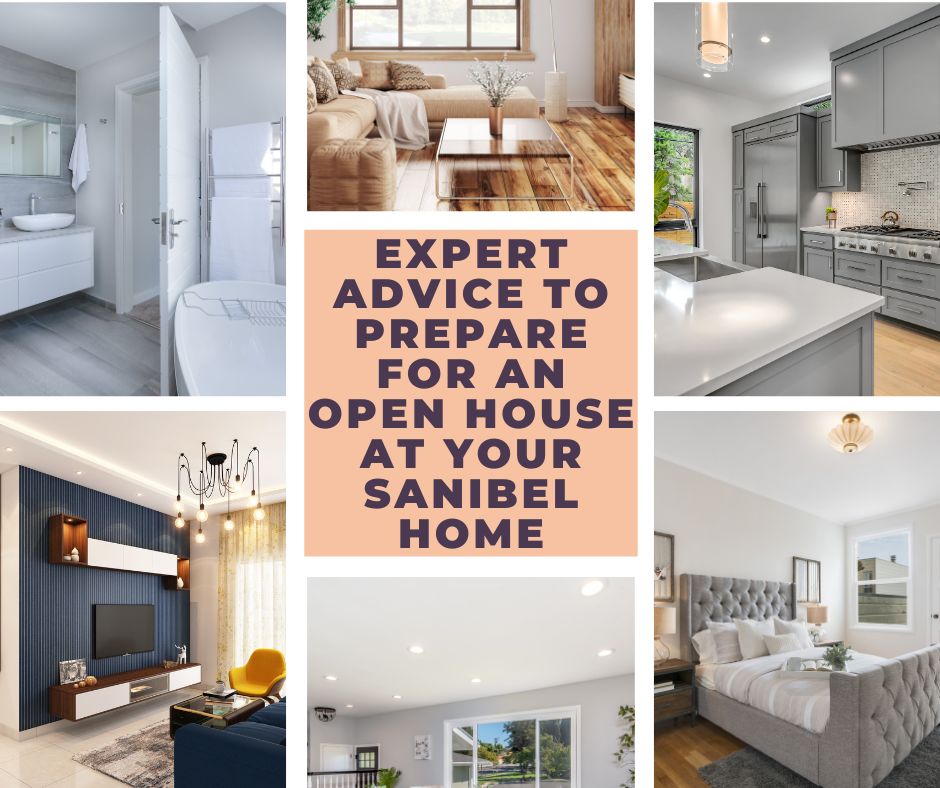 Hosting an open house, rather having an agent host an open house, to sell your Sanibel home, is a great way to get more people in the home to see it at one time. If you have an open house coming or are considering having an open house to help get your home sold, you might be wondering what you can do to get your home ready for an open house. Here are some great tips to get you prepared.
Staging
Staging is the act of decorating your home so that potential homebuyers can see themselves living in the space. It is a way to highlight the best attributes of the home and give a homebuyer an idea of the way that spaces can be useful. It also helps the home to feel up-to-date and homey without feeling like someone else still lives there.
It is like walking through a home furnishing store and seeing the display models set up in make-believe rooms. This helps sell the furniture because as you are looking at and can imagine how it works in an actual room and it helps you to visualize how it could look in your home.
If you are still living in the home you want to make sure it doesn't look like you are warm and cozy there. Think model showroom not a cleaned-up version of your everyday life. Tuck away personal items like family photos, and toiletries on the bathroom counter.
Clean Appliances
Appliances are a focal point in a home, especially when it is noted that appliances will be staying with the home. You want to make sure that these key items are nicely cleaned and ready for a visual inspection of potential buyers. The most inspected appliances tend to be the oven and the refrigerator. It is good to make sure they are clean both inside and out. Take old food out of the fridge and organize what gets to stay. Again think how you would see something in a showroom to show it off and get it sold.
Have Pets? Dont Let it Show
If you have cute furry family members, you want to be mindful that not every potential homebuyer is going to be an animal lover. When getting ready for an open house tuck away animal belongings like food and water bowls and toys. It is also good to find an adventure for them to take for the day so that they are not stressed out by strange visitors and your visitors are not put off by their presence. Maybe taking them out for a day of fun or taking them to a friend's house they love.
Lighting Helps
Make sure that the home has as much natural light flooding through it as possible. Not only does it make the home feel bigger and more cheerful, but buyers will be curious about how much natural light the home has anyway. Make sure to open all the window coverings and pull any heavy furniture away from the window that might be blocking light from coming in.
Home buyers will also intentionally look out the window to see the views, especially in a location like Sanibel where pretty much any view out any window is amazing. Make sure there is a clear path for homebuyers to take a look out the views from every window.
Artificial light is also important. Make sure that all lightbulbs are working and turn on every single light fixture.
A Pleasant Scent
The fragrance of a home can set the overall tone for the home. It can bring good and pleasant feelings and help a homebuyer to remember the property. The great thing about a pleasing aroma is that it doesn't take much effort. It can be in the form of a candle or a plate of freshly baked cookies. Or just a simple plug-in. The scent does a lot to give an impression and pleasant feelings toward a space.
If you are considering the sale of a home in Sanibel; please contact me. I am happy to talk about your home-selling plans and goals. I am highly knowledgeable in Sanibel real estate and can help you sell a Sanibel home for the highest price possible.