Getting to Know Karen Bell and Her Cobberdog Ruby
Posted by Holly Peeples on Wednesday, August 31, 2022 at 3:43 PM
By Holly Peeples / August 31, 2022
Comment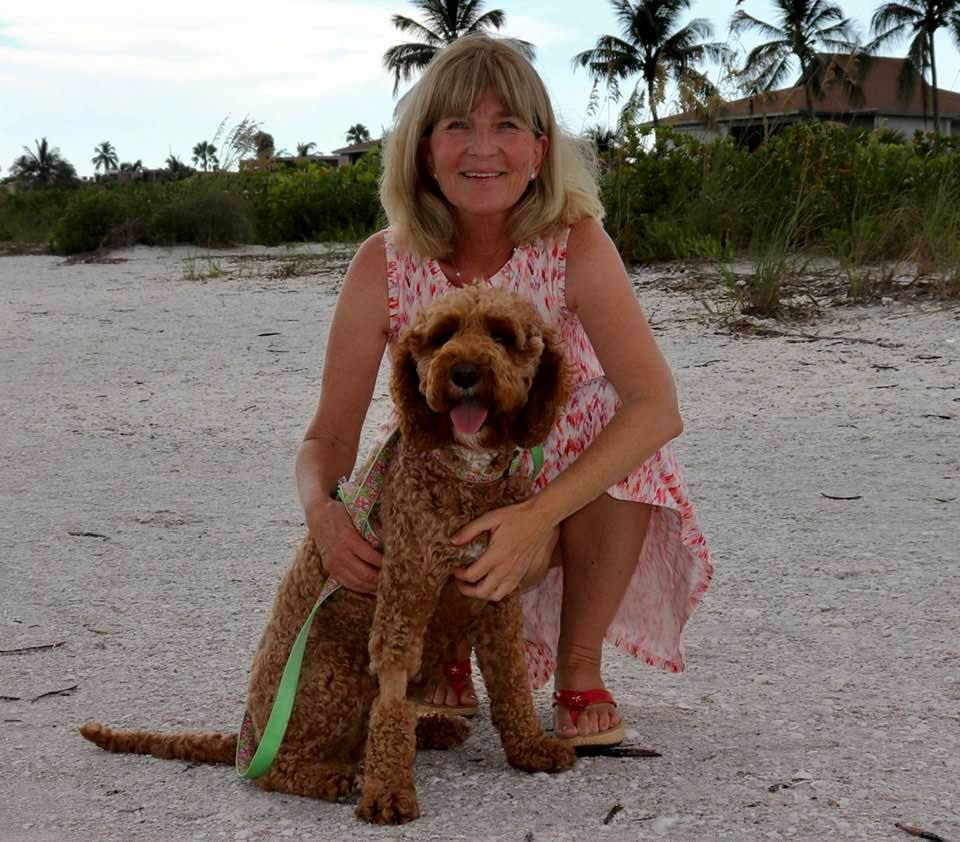 Karen Bell is a true asset to The Bell Team and a great resource and help in all things Sanibel Island and Captiva Island Real Estate. She and her dog Ruby were recently featured by Peal the Blogger. Here is the blog written by Pearl:
"G'Day, Mate! Introducing Rutland Manor Cobberdog Ruby
The next time you are in Sydney (think Breaker Dundee Sydney, not Hillsborough County, Florida,
Sydney), plan a drive 280-mile drive west, over the Blue Mountains. Take a right when you reach
Bogolong Springs. Then, and only then, will you find 65 acres of "heaven on earth for dogs", Rutlands
Manor, home of the Rutlands Australian Cobberdog.

Leave it to Karen Bell, VIP Realtor, and Top Producer, to investigate, research, and find the perfect
companion animal, the Australian Cobberdog. This meticulously bred dog, is, indeed, a wonderful
"cobber," the Australian term for friend or companion. They are excellent assistance or therapy dogs
since Cobberdogs are gentle and focused on their humans. Ruby is a splendid example, as she is intuitive
and will establish direct eye contact easily. This breed is fun-loving, naturally athletic, and highly
intelligent. Karen Bell can tell you all the secrets to training these dogs as she has much experience with
them. Her beloved Lilly was her first Rutlands Cobberdog, who lived with her on our beautiful islands for
15 years. After Lily crossed the Rainbow Bridge in 2019, Karen reached out to Beverly, founder of
Rutlands Manor, to adopt again. Ruby was born in January 2020. And what happened in early 2020?
COVID! Ruby's arrival was delayed for 1 ½ years so she stayed in Australia and had a litter of 14 puppies!
And like many of us, Ruby has retired to Sanibel where she now enjoys "Six O'clock Swills" (Aussie for
"Happy Hour") at the pool, with her mates. She even encourages Karen to jump in and join the fun! And
when they are not frolicking in the water, you might find Karen and Ruby out on a Sanibel "safari" in
search of bunnies, lizards, and iguanas! No worries, just looking! Wildlife is never in any danger when
gentle Ruby is on her walkabout! There may be 7 places in the world named Sydney, but there is only
one Sanibel Ruby Cobberdog! Truly one of a kind!
Should you decide to make the islands of Sanibel and Captiva your home too, contact Karen Bell. Karen
understands the draw to our islands. She came to visit on spring break in 1979 and never moved back to
Kentucky. She will bring the same attention to detail, skill, and enthusiasm she is known for, to help you
find your one-of-a-kind home! Make this bit of paradise yours and Karen and Ruby will treat you to a
"Six O'clock Swill" anytime!"
If you would like to contact Karen for your Sanibel real estate needs you can do so on our contact page. The entire Bell Team is here to help make your real estate transactions as stress-free, informative, and easy as possible.