Helping a Community After a Natural Disaster
Posted by Holly Peeples on Monday, October 24, 2022 at 1:47:47 PM
By Holly Peeples / October 24, 2022
Comment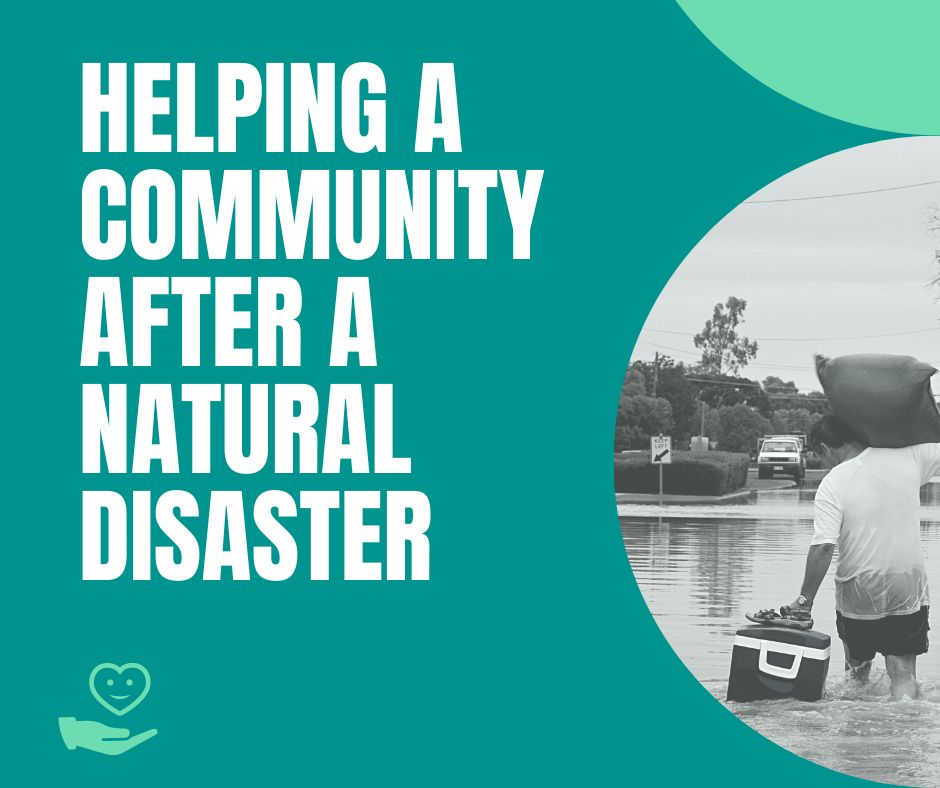 They're really is no portion of the planet that is not susceptible to some sort of natural disaster of some kind. Some areas are prone to tornadoes, in other areas blizzards, some earthquakes, and in others hurricanes. Natural disasters have varying degrees of intensity and damaging effects and can be very challenging for the people and towns directly affected. It is not uncommon to have a heightened stress level following a natural disaster as well as experience different levels of physical, mental, and emotional exhaustion.
One way to help combat these feelings of anxiety and stress is to band together with other people and relief efforts to rebuild areas. Whether it is an area on the other side of the country from where you live or you live in the community that has been hit. Especially for those directly affected helping out in the community alongside other members of the community and neighbors can help greatly in feeling like you are getting back on track as well as foster feelings of hope.
Here are some great ways to help your community recover after a natural disaster
Make sure you and your family have received what you need first
If you have ever taken an airplane ride you have been through the safety protocols before the plane takes off. One of the items they always make sure to state is that if your oxygen mask drops out of the ceiling you make sure that yours is in place and safely secured before moving on to help others get theirs on.
After a natural disaster has affected you directly or your family members you want to make sure that you are in a good place in getting help and restoring your home back to a livable condition. When you have a good foundation to get this process started you can then turn to be attentive and helpful to others.
Check out local nonprofits
Local nonprofits can use the help of volunteers all year long but especially so when there are heightened times of need for people to give an extra hand. And these are good places to start when looking for a spot to get involved in community efforts. Additionally, you may make some new local friends and decide to continue to volunteer year-round. There's just something about volunteering that does something for the soul. An added bonus is you get to meet new like-minded people enjoying doing the same helpful work.
Donate money if possible
Not everyone will have the ability to share some extra money with disaster relief programs but some may be able to help out. If you cannot give the gift of physical labor or time in volunteering helping out with monetary donations to purchase supplies so that relief programs can do the very important work that needs to be done is incredibly important. A good place to begin asking where money is best used and donated is by contacting your local city government directly. You can find the contact info for the City of Sanibel on their website.
Help with Clean Up Efforts
Some people may feel more geared toward helping out in cleanup efforts instead of directly working with large groups of people. Working in a disaster area can be highly demanding in physical stamina and strength which is something to consider before offering help in clean-up services. You want to make sure you are lending help to responsible clean-up crews. Again a great place to start in offering your services for clean-up is with the local government.
You could also lend help to your neighborhood HOA or individual neighbors that may need some extra help cleaning up their private property. Before helping neighbors make sure that they have contacted their insurance company and know what they should be cleaning on their own and what they should wait on to get professional opinions.
For more information about community rebuilding and clean-up efforts please check out the City of Sanibel Facebook page.
For more information on Sanibel and Captiva Island real estate please contact us any time.