House Styles that Bring in the Biggest Price Tags in 2022
Posted by Holly Peeples on Wednesday, July 6, 2022 at 4:38 PM
By Holly Peeples / July 6, 2022
Comment
Real Estate prices have been on the rise across the country, especially since the beginning of the pandemic. Over the last few years, we have seen shocking increases in home prices all across America. Though home prices are expected to slow in their growth they are not expected to stop increasing anytime soon.
You've probably heard the cliché location, location, location. This is a term often used meaning that the location of a home is the biggest driving factor in the overall value of a property. While the location is very important in determining a home's listing price, the style of a home also plays a large contributing factor.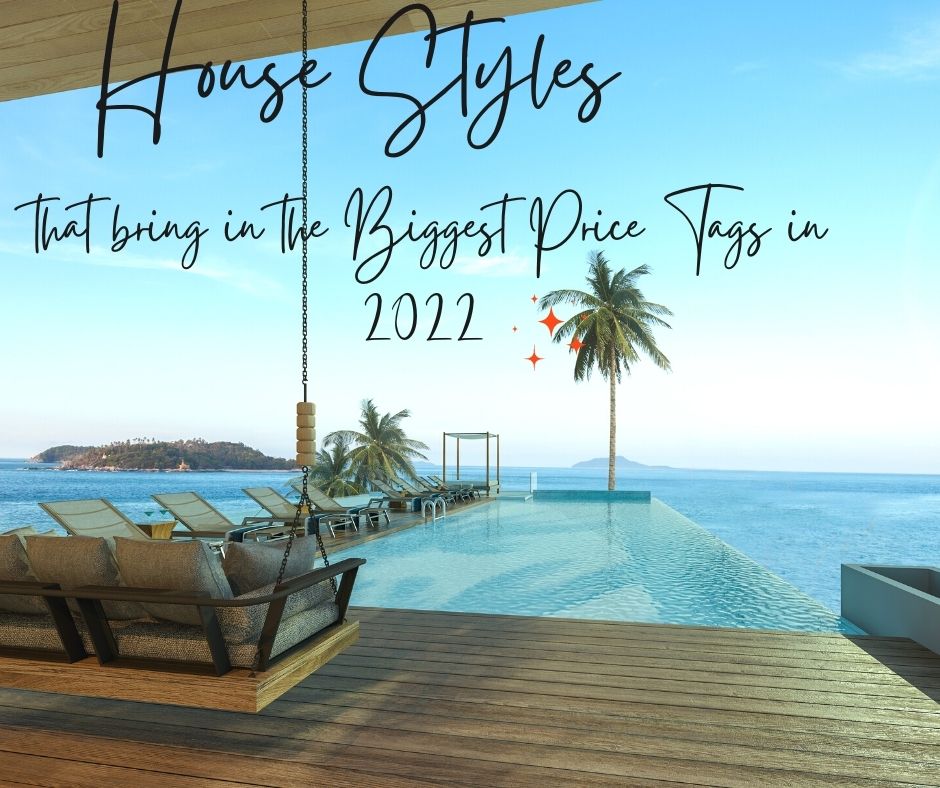 Recently, the company American Home Shield held a survey taking information about homes sold through the popular website Zillow. They took a look into home sale prices and their style to help determine the average sticker price that architectural styles brought in across America. While conducting their survey American Home Shield used Zillow's "architectural style filter" to help them determine the results of finding the most popular house style in each state.
The 10 Highest Valued Home Styles of This Year
According to the American Home Shield survey, they categorized these 10 house styles as the most valuable across America. Here is a list of the least to most valuable home styles in the country according to the sale price.
Brownstone
Being on a small island in southwest Florida we don't really see brownstones. These are most often found in dense urban areas and are probably made most popular by stories set in areas of New York. What makes them so popular is their historical aesthetic. Brownstones peaked in the mid-1800s and were often constructed with plenty of period character that they retain today making them highly popular. The average selling price of a brownstone currently is $733,890.
Raised Beach House
The most desirable attribute about a raised beach house is that they are located on the beach. The average raised beach house sells for $734,697. This type of beach house is set at an elevated height above the ground to prevent water damage because they are built in an area with a high possibility of flooding during times of harsh weather.
French Country
French country architecture is probably most notable for having a fairytale style feel that is very whimsical and what some may characterize as girlie. This home style takes a lot of inspiration from areas like Provence in the French countryside. Homes of this style sell at an average of $780,230.
Mountain Contemporary
Another home that is not seen on the island but is very popular in America right now is the mountain contemporary. These types of homes feature both rustic and modern elements that are inspired by natural mountain terrain. Mountain contemporary homes sell on average for $794,574.
Mid-century Modern
If you have watched any sort of home makeover show or home renovation show you have probably heard the words mid-century modern. This home-style has been at the top of trends since well before the pandemic began. This can actually include several different architectural styles of homes built between the 1940s and 1970s. The most notable features of mid-century modern homes are open floorplans and large windows. Often a mid-century modern home can sell for a price tag of $799,541.
Northwest Contemporary
This architectural style is influenced by the region in its name, the Pacific Northwest. Most often these homes are found in the location which their name describes. Northwest Contemporary homes use natural elements and bring in asymmetrical architecture with large windows to marry the outdoors with the indoors. A Northwest contemporary home can bring in a price of around $806,731.
Spanish
The majority of Spanish-style homes get their inspiration from colonial Spanish architecture. Sometimes they can be confused with Mediterranean-style homes. There are several amazing Spanish-style homes all around Florida including here on the island. Spanish-style architecture brings in an average price of $841,784.
Shingle
This type of home is often found along the eastern coast of the United States. Very similar to a beach house you will often find a shingle-style home close to the ocean. The most iconic feature is the wood cladding and gambrel roof. The average price of a shingle-style home in America is $960,638.
Mediterranean
A Mediterranean-style house is very similar to a Spanish home because it gets style inspiration from both Spanish and Italian architecture. Perhaps the most recognized attribute of a Mediterranean-style home is the clay barrel tile roof coupled with often light-colored stucco walls. This type of home also features arched designs most often in doorways and windows. Often you will find Mediterranean-style homes in coastal states and they sell across the country for an average of $991,408.
Beach Houses
At the top of the list of homes across America that bring in the highest selling price and are seen as the most valuable, is the iconic beach house. It probably comes as no shock or surprise as beach homes are in the most desirable locations. (like here on the most beautiful islands in the world) The average beach house sells far above any other type of home at $1,223,310. Most often beach houses come with amazing views, easy access, or direct access to the beach and the water.
Sanibel and Captiva Island are full of the most valuable homes in America. If you're interested in available real estate on Sanibel or Captiva Island please contact us anytime.
More on Luxury Real Estate in Sanibel and Captiva
Is it a Good Idea to Get Rid of a Tub and install a Large Luxury Shower?