How to Always Be Ready for Storms on Sanibel Island
Posted by Holly Peeples on Tuesday, August 29, 2023 at 8:31:25 PM
By Holly Peeples / August 29, 2023
Comment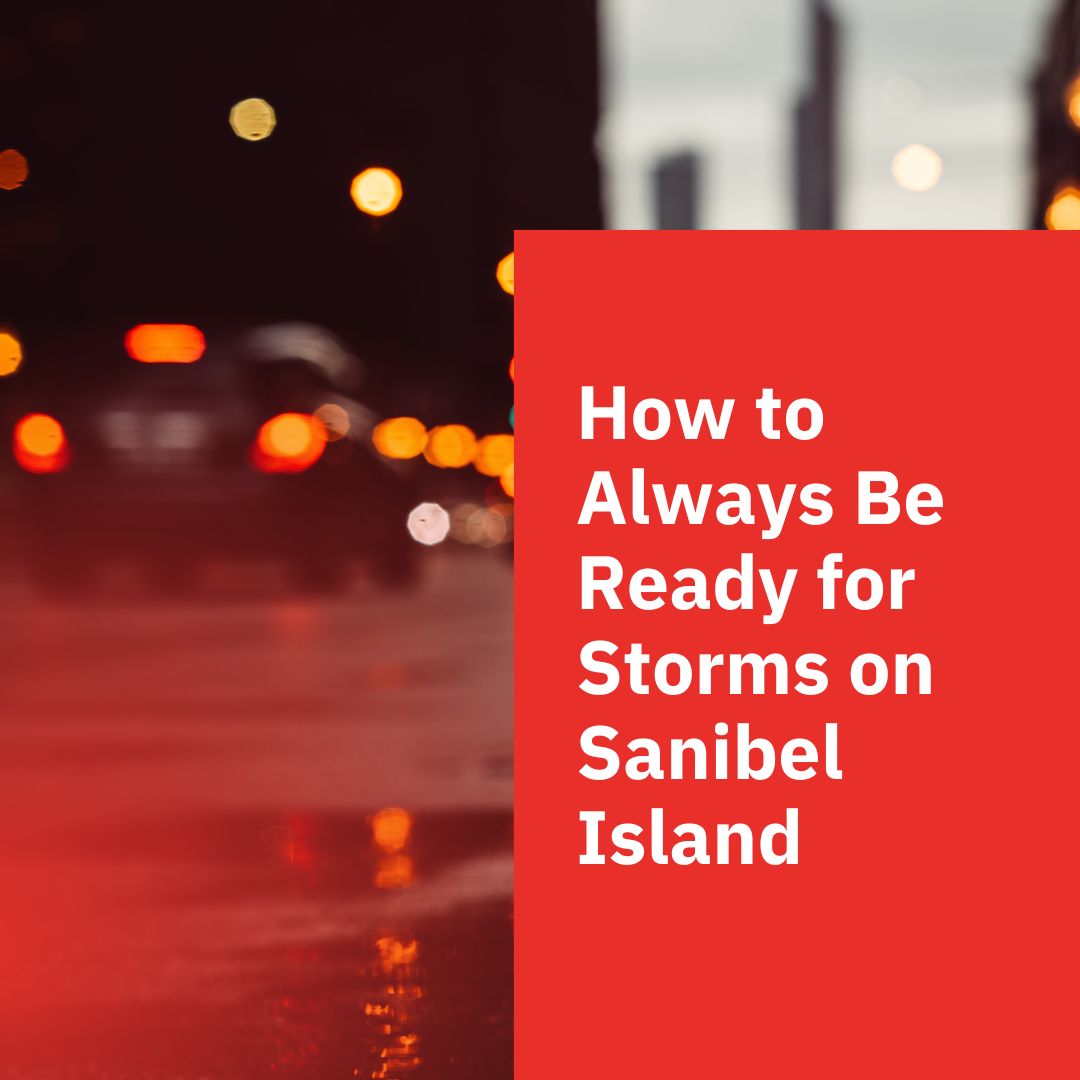 The Atlantic Ocean has had a pretty active storm season over the last few years. Everyone knows Hurricane Ian brought quite the activity to Sanibel and Captiva islands last fall and the island is still recovering. Now Hurricane Idalia (and the King Tide) is on the way from the Caribbean to the Gulf Coast of Florida and is expected to have a harsh storm impact on the islands. Out of an abundance of caution, the island is making several preparations in advance.
If you have just moved to Sanibel Island or are considering a move here you may be wondering what it requires to be ready during what is considered storm season in Florida to keep your home and everyone living in it safe. You also will want to know how you can best maintain and prepare your home to sustain as little damage as possible should a storm arise.
Preparing your home on Sanibel to be ready for storms
Preparing for an incoming tropical storm can feel intimidating and stressful but it doesn't have to be when you have the right preparations in place all through the year, storm season or not. Here are some ways that you can get yourself and your home ready for tropical storms and hurricanes in your Sanibel or Captiva Island home.
Before the storm
The best way to weather harsh storms is with the best preparation possible. The better your home and you are prepared for a storm the better outcome on the other side. Prior to storm seasons and harsh weather even being in the forecast it is good to know the past dangers that homes have faced and what is the potential as well as the average amount of damage seen. You can access historical Hurricane patterns for different areas with the helpful tools at the National Oceanic and Atmospheric Administration website.
Another great way to learn about storm season on Sanibel Island of course is to gain helpful insight from locals. I am happy to give you insight and it is also great to strike up a conversation with immediate neighbors to ask for their help and advice in preparation as well.
Make sure you know the evacuation route for the islands so that you are knowledgeable and prepared well in advance should the local authorities call for evacuation as a storm becomes closer. You also want to have a plan in place as to where you will shelter personally when evacuations are suggested.
It is a good idea to keep landscaping trimmed away from your home as this will help vegetation to not hit your home in high winds or pull off pieces of your roofing. It can be a good idea to invest in a generator to help power essential appliances should your home be without electricity for a significant period of time. It is best to make sure you know how to safely operate a generator and remember that the generator should always stay outside of the home to prevent fire and carbon monoxide poisoning.
Having an emergency kit handy at all times for every person in the home is also highly beneficial. This kit should include plenty of drinking water, non-perishable food, a blanket and pillow, a change of clothing, helpful tools, important personal documentation, first aid supplies, hygiene items, and any needed important medications. Many people may refer to this as their go bag. This is what can quickly be grabbed should you need to leave your home at a moment's notice. You may also want to make a list of important items in your home that are irreplaceable and you will want to take with you. It is also good never to assume that you are fully prepared for any storm that is coming because you have already put preparation measures in place. Every storm is different and you should rely on a combination of preparation and knowledge of the specific needs of the current storm to adjust accordingly and prepare.
During the storm
If you are asked to evacuate your home please make sure to trust the authorities and do so. Make sure to give yourself plenty of time to evacuate as there will be much more traffic in the streets. Make sure to try and stay calm and be helpful to others around you fighting the urge to become stressed out and panic. Leaving with more time than needed is always the best plan.
If you are able to shelter in place make sure that you take care of anything in the home that can only be done as the storm is approaching. This includes filling up the bathroom with potable water, making sure emergency food kits are handy, and grabbing items to keep you occupied like a book and a battery-powered radio. Be prepared to lose power. Put vehicles inside the garage if possible or park them downwind from the house. If you do not have impact-resistant glass make sure that windows are boarded up with plywood. Stay on the home's lowest level and as far away from windows as possible and close interior doors. Should the home become flooded be prepared to move to a higher level but do not climb into an area that could become blocked off from an exit.
Make sure to have the radio with you and do not plan to go outside when it feels like the storm has calmed down. You want to listen to the radio to ensure that the storm has fully passed before trying to exit your home. Once you are able to exit your home, do not walk through flood water as there are many potential dangers such as electrocution, wildlife, and pathogens present in flood water. You will want to stay put unless you have protective clothing to safely deal with the flood water.
Tropical storms happen here on Sanibel Island but they are not something to live in fear of with the right preparations and knowledge. Sanibel Island is still one of the most beautiful and amazing places to live and many people have called it home for several generations.
If you are interested in Sanibel Island real estate please contact me. I am a real estate agent that has made Sanibel my home. I am happy to help you find a Sanibel Island home that you will love.