How to Give Your Cabinets a Facelift
Posted by Holly Peeples on Tuesday, August 17, 2021 at 2:43 PM
By Holly Peeples / August 17, 2021
Comment
Give a thrifty facelift to outdated, careworn kitchen cabinets with a fresh coat of paint and updated fixtures. This is ideal for vacation homes, investment property on Sanibel Island or just trying to find a budget-friendly way to update your kitchen or bathroom.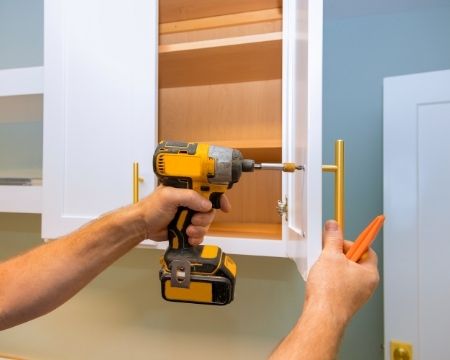 Adding a gel stain, glaze or high-gloss or chalk-style paint can change your cabinets' appearance from plain-Jane to shabby chic, rustic, farmhouse, modern or your own special style. An updated color can turn attention away from door styles that are no longer popular and spruce up builder-grade cabinetry.
Of course, it is important to prepare your cabinets for new paint by sanding and paying close attention to the paint application process. To apply paint, you can use a roller or spray; a sprayer will allow for a more even application. If you feel like you are too much of an amateur to apply the paint yourself, hire a professional to complete the job.
Other cost-effective options for refreshing your kitchen cabinets are to apply a press-on veneer available at woodworking companies or add a decorative stencil to the existing paint.
Another economical way to add style and functionality to your older cabinets is to replace pulls and knobs. An array of these fixtures is available at big-box stores, online, salvage stores and showrooms in a variety of consumer categories such as plumbing and kitchen design. To avoid the need to drill new holes, make sure the fixtures you choose fit into the existing openings.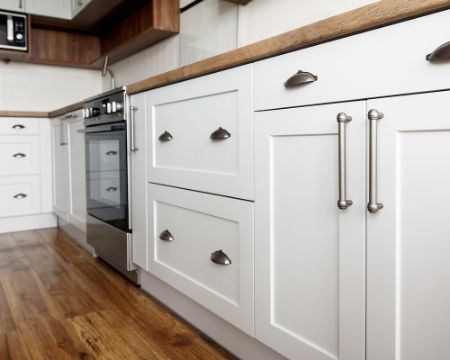 If your cabinets have windows, you can make a stylish statement by using textured inserts such as chicken wire or glass. For a high-end approach, use actual leaded glass; less expensive options that look like actual leaded glass also are available.
Another versatile upgrade that will add interest to your kitchen cabinets is crown molding. It can be installed across the top or bottom of the cabinets in a style that is compatible with the other decor in the kitchen. You also can create an eye-catching diamond design with molding across a cabinet door.
Also visually appealing is wallpaper hung on walls behind cabinet doors and along sides of kitchen drawers.
To create an open, airy look, intersperse closed cabinets with open shelving. Showcase attractive dinnerware, glassware, plants and curios on the open shelves. For convenience and accessibility, wine glasses can be hung on under-cabinet shelving.
Other ideas for creating style and functionality for a fraction of the cost of installing new cabinets include dressing up door exteriors with beadboard, adding under-cabinet lighting for ambient warmth and wrapping a backsplash along walls beside behind a sink and cabinets.
Installing roll-out shelving and pegboard organizers can go a long way toward giving old cabinets new life and functionality.
By combining new architectural elements and fixtures to old cabinets, you can create a custom, sophisticated look for your kitchen without the cost of a major overhaul.
If you're planning on selling your luxury home on Captiva or Sanibel Island this year, give us a call. Would love to offer tips and suggestions on how we market your home and present it to potential vacation buyers or full time residents.