Is it a Good Idea to Get Rid of a Tub and install a Large Luxury Shower?
Posted by Holly Peeples on Thursday, June 23, 2022 at 7:13 AM
By Holly Peeples / June 23, 2022
Comment
If you are shopping for a new home and the main bathroom is not quite the way you want it, or you are updating your current home to better fit your wants and dreams, you may be considering installing that dream extra-large walk-in shower. There has been a resurgence in interest in walk-in showers with plenty of room and luxury water features. Many homeowners are taking out bathtubs to create room for luxury super showers.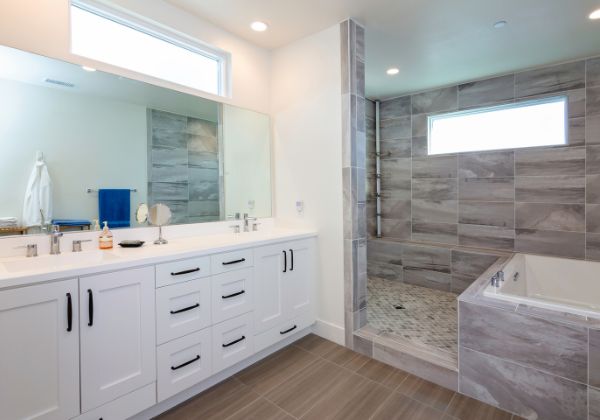 Here are some things to consider before installing a giant luxury shower in your home
The Benefits of a Large Luxury Walk-in Shower
In some cases, a luxury shower can take up less room than a shower and tub combo. This could leave you with more ability to create other useful features in your bathroom like extra storage or a private toilet area. Or maybe allow room for an extra vanity.
Showers tend to use less water compared to filling up a bathtub. The average standard tub holds around 50 gallons of water and some large soaking tubs can hold as much as 100 gallons. A ten-minute shower using a showerhead with a flow rate of 2.5 gallons per minute uses just 25 gallons of water.
There are so many cool features you can install in luxury showers today. From mood lighting to turning the space into a steamy sauna-type area you just may never want to get out of your shower. The most popular features include installing multiple shower heads with several different spray options. Smart features that turn the shower on for you and warm up the water while you are in a different room are also highly sought after.
They can be much safer for the mobility impaired. A large luxury shower allows for ease of walking right in with fewer tripping hazards. You can also install easier-to-use seating in a walk-in shower and accessibility handles. All features make a large shower much easier to use and safer for the mobility impaired.
Large showers are easier to clean. Nobody likes kneeling down or bending over to try and reach those corners in the back of the tub. Cleaning a walk-in shower is a bit easier process as compared to a tub.
A Couple of Drawbacks to Large Luxury Showers
If you are choosing to nix the only tub in your home to install a large luxury shower it could end up hurting the resale value of the home. You don't want to get rid of every chance to use a bathtub within your home. A large luxury shower in a primary bedroom can help to boost resale value, but if the home has no tub at all it becomes less appealing to families with small children.
This is something to think about before ripping out a tub in your home and replacing it with your dream shower, especially if you have plans to resell the home within the next five to ten years.
For more information on available real estate on Sanibel Island or Captiva Island contact us any time.
Need to know more? Check out our latest post on this subject:
Can the increased mortgage rates slow the seller's market?
The difference between sellers and buyers market
Southwest Florida is one of the hottest markets in the country