Is it Better to Buy a Home with Cash?
Posted by Holly Peeples on Monday, July 18, 2022 at 2:15 PM
By Holly Peeples / July 18, 2022
Comment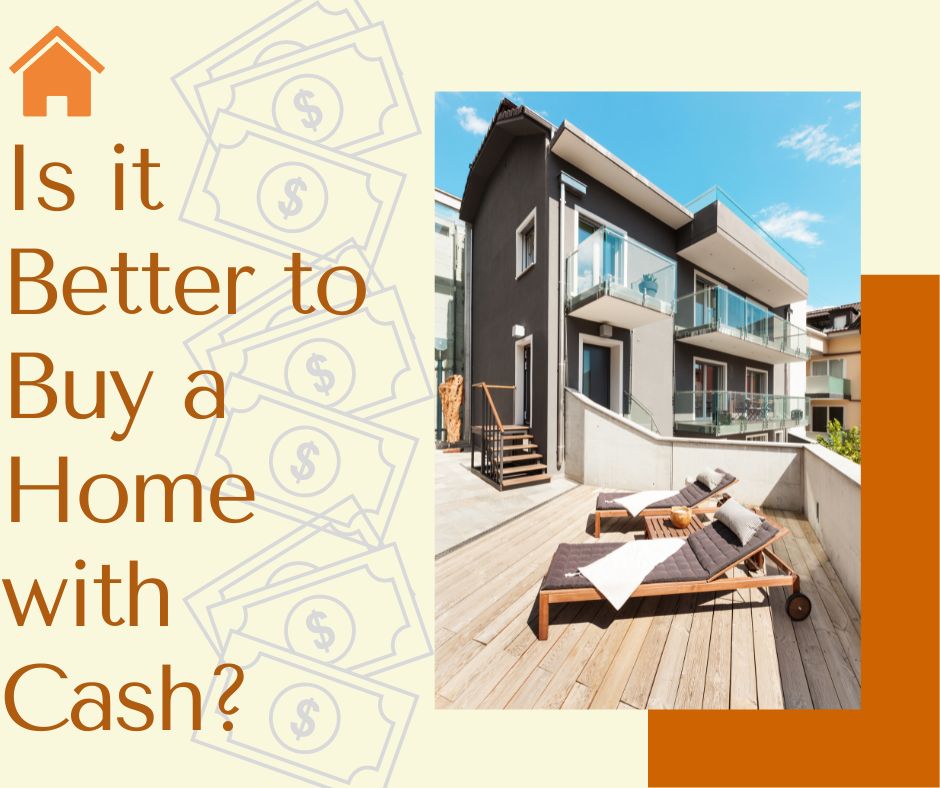 To purchase a home with cash means you are buying it without borrowing any money as a portion of the purchase price to help you attain ownership. This means that you have the entire amount you made in your purchase offer, closing costs, etc. available in your bank account to pay in the form of a money transfer, hard cash, or check.
Over the course of the last few years, many buyers have found themselves competing against other buyers able to make cash offers on homes. While a cash offer can have many benefits as compared to the need to finance a home purchase through a mortgage there can be a few downsides to a cash offer.
Here are both the pros and cons of purchasing a home with cash
The general process of purchasing a home with cash
When you buy a home 100% with cash the entire process is a bit simpler as compared to seeking financial help through any type of loan. When you are using your own money that you have already attained you do not have to ask for permission in how you use this money (unless of course this is being purchased through a joint account in partnership with other buyers or on your own from the joint account).
When purchasing a home with your own funds the steps are pretty straightforward in paying for your purchase except when it comes to liabilities that can pop up later. Purchasing a home with cash can save a significant amount of time as you do not need to go through the underwriting process for a loan and have someone check into every detail of your personal financial aspects as well as the details of the property you are hoping to purchase with the money. In purchasing a home through a cash offer you can completely close on the sale of the property in as little as a few weeks.
The benefits of purchasing a home with cash
A quicker purchase process
As described above not having to wait for a mortgage company to make sure they are not taking too much of a risk in loaning money helps you to have stronger ground in negotiations. All you have to do is go through the necessary steps of moving a large amount of money from your account as well as any due diligence on any contract contingencies you may have included with your offer. There is a huge time savings when not dealing with a mortgage underwriter.
A competitive advantage
Making a cash offer on a home quickly makes your offer look stronger and more enticing to a home seller. Sellers prefer to work with cash buyers in most cases for many different reasons. The first is that they do not have to take a risk of the buyer not qualifying for a mortgage. The second is a faster selling process so that they can move on to their next home purchase.
It can save some money
Not having to take out a mortgage loan means that you will not be paying interest to the bank. When using a home loan most of the money for the home purchase over the life of the loan goes to interest paid to the bank. Additionally, you will not have to deal with mandatory insurance or other handling fees that banks charge when processing loans.
You will also save money on closing costs as you will not be paying bank-generated costs for origination fees, application fees, title insurance policies, and the like.
Complete ownership
Paying for a house with your own cash means that you own it outright and there is no third-party owner involved. If you lose your job or have an emergency come up where you are unable to make your monthly mortgage payments you will not face losing your home.
What could be the downside of using cash for a home purchase?
With all of the benefits listed above, it seems like paying cash is always the best idea possible when buying a home. But there are some reasons why homebuyers, even those who have more than enough money to pay in cash, choose to use financing for at least a portion of a home purchase.
Using cash gives you less liquidity
Making a huge purchase with a large lump sum of your money will deplete the balance in your accounts. This of course is normal when making a large purchase or really any purchase for that matter. But there are some reasons to make sure that you have a healthy amount of liquidity on hand, especially in the event of an unforeseen emergency in your life.
No tax deduction
Cash buyers do not use a mortgage to pay for their home and as such, they are not eligible for mortgage tax deductions when it comes time to fill out tax return paperwork every year. Many homeowners benefit greatly from taking standard homeowner tax deductions every year. It is a large way that many Americans reduce their taxable income.
A lesser benefit if you sell when the market is tight
When you have not borrowed any money to purchase your home there is no possibility of being upside down on your home. Upside down means that your home has a current fair market value of less than what you owe on your mortgage (in some cases less than you paid). Should home values take a hit and you find yourself needing to sell your home you may take a huge financial loss when you need to sell.
Additional out-of-pocket costs
Even though you own your home outright and have saved some money in upfront fees by not using a lender there are still additional costs you will have to pay out of pocket on an annual basis when you own a home. When you mortgage a home these items are averaged into your home payment for the most part. This includes items like property insurance and property taxes.
Before making a purchase on a home in all cash it is always good to talk with a trusted financial advisor or a real estate expert to decide if this is the best idea for you personally.
For more information on real estate for sale on Sanibel Island or Captiva Island please contact us anytime.