Is the Real Estate Market Headed for a Crash?
Posted by Holly Peeples on Monday, July 25, 2022 at 4:36 PM
By Holly Peeples / July 25, 2022
Comment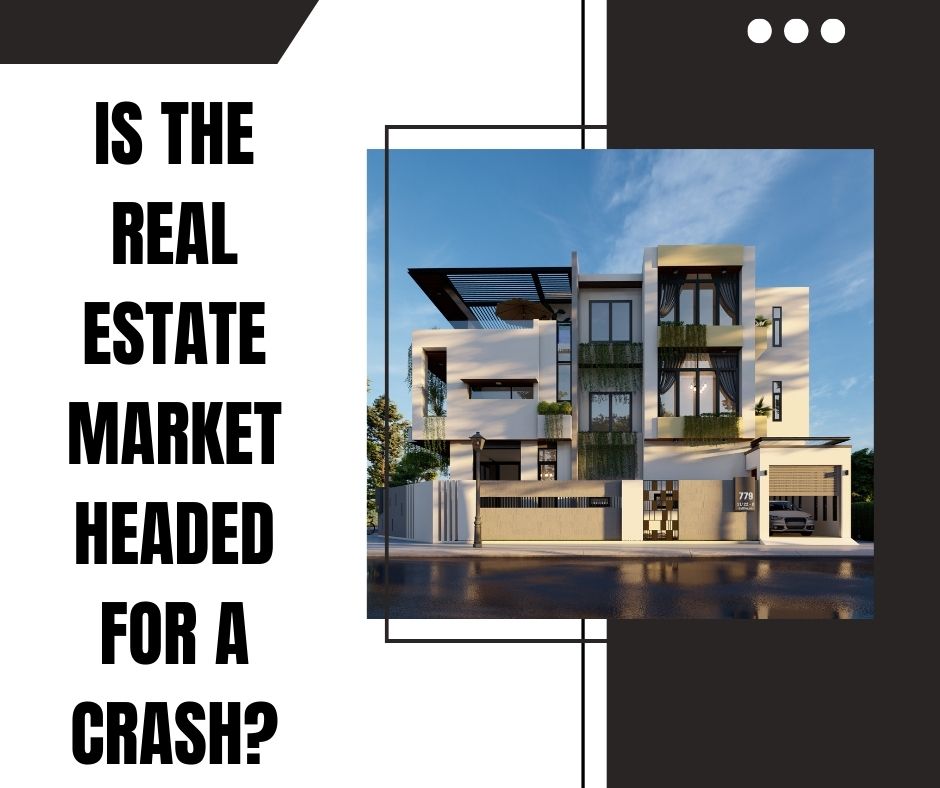 Currently, and especially if you look into news headlines, the economy and real estate market seem a bit crazy and maybe a little scary. If you are hoping to purchase or sell a home it might seem like leaping into the unknown. There's so much that you hear in the news swirling around that can be contradictory and many people are wondering if the housing market is going to crash.
The truth, getting the real picture requires looking at different angles of perspective
There's a lot of speculation from different people about where the housing market is going to head in the near future. But these are all headlines and opinions that are not privy to your personal financial situation and long-term money goals. You want to be careful not to fall for exaggerated fishing stories like we have no doubt seen about many different subjects over the last couple of years. You don't want to let one perspective be the driving force behind your personal opinion.
It is always best to base your personal financial decisions on hard cold facts and nothing else. Let's take a look at the current real estate data to get a better insight into where the real estate market really is heading.
Here are some current factors in the real estate market today
Housing price increases
The average house across America increased in price by 29% in the year 2020 and by 18% in the year 2019. These are very large increases never before seen. The spike was a perfect combination of many things including people coming out of their safety quarantined inside their homes and back to their homebuying plans. This was also coupled with extremely low mortgage interest rates for a time. This drove a very high demand in interest for purchasing a home.
As mortgage rates have risen there has been a cooling in buyer interest but prices are still projected to grow 8% overall in 2022 across the country. The projection for the year 2023 is about 3 to 4% which returns to the average home price increase when you look back over the last 50 years.
Housing shortage
When we think of a housing crash most people remember the large problem from 2008. In 2008 the demand for homes fell well below the current supply of homes available on the market. Currently, we are seeing a big difference because the supply of houses is only about a quarter of what was available in 2007. The new housing start supply is 35% lower than it was in 2005. Our current market conditions are the opposite of 2007 and 2008 in that the supply is very low.
Another factor of the housing shortage as far as new home starts are concerned was the lumber shortage. New housing starts got disrupted by a supply chain issue caused by the pandemic as factories shut down and were unable to process lumber. We have now normalized back to a price of around $600 per 100 feet of board but we are still feeling the negative impact of this effect on starting new homes.
Foreclosure freezes
The government put a moratorium on foreclosures meaning that they put a freeze on the bank's ability to continue forward with the foreclosure process on several homes. This has caused a pile-up of homes to be foreclosed on. These foreclosures are slowly beginning to come back to the market but it will not provide enough inventory to make up for the current housing shortage.
High demand remains strong
The current largest group of home buyers is the millennial generation. It is shown that the number of millennials in their mid-30s is around 5 million more people. In 2006 when generation X was in their 30s the population was much smaller as compared to now. There are more people in the traditional prime of homebuying age than there are homes for sale as compared to just a few years ago when the previous generation was in their home-buying prime. There are more buyers and fewer houses which creates a different dynamic than the generation before faced just with an increase in population.
Migrating movers have also driven demand
There were many people across the country seeking out better locations to live the lifestyle that they prefer. Some markets where the local government atmosphere and home prices seemed more promising saw a huge influx in population driving a large demand for homes in those areas.
Mortgage interest rates
The recent fast and steep climb in mortgage interest rates came as a shock to many people. It feels like mortgage rates have climbed higher than we have ever seen before to some people. In reality, mortgage rates are beginning to balance out and normalize. In 2020 and 2021 interest rates hit lower than anyone has ever seen in their lifetime. But what we need to remember is that they currently are nowhere near the all-time high that America saw in the 1980s when mortgage rates climbed to 17%.
In 1981 the average interest rate was 18% yet there was no current housing crash at the time. What did seem to happen was more of the housing market just waiting. There was no big drop in prices. In 1984 the average fixed rate dropped to 14% and many more buyers came flooding into the market again yet this drop in rates was still not due to a housing crash.
What do these factors say about the housing market?
When you look at all these factors and compile them together, especially the continued demand and low supply of homes it is easy to see how people can be frustrated and worrisome with the market. Especially when prices on many consumer goods are inflating all across the country. As budgets and emotions become exhausted there are still some items that you can control in what feels like chaos.
This can still be a very good time to purchase a home or sell a home if you personally are ready in your own financial situation.
The best way to navigate any scary and unknown situation is to make sure that you have the proper knowledge about the current facts and the right tools to make sure that you have everything you need for success. One of the best tools that you can have in your box is an expert local real estate agent that knows all of the factors and knows how to advocate for your personal needs. With the right expert help on your side, you can be successful in real estate right now.
For more information on purchasing a home on Sanibel Island please contact us anytime.