Maintaining a Pool with Damaged Equipment
Posted by Holly Peeples on Monday, November 22, 2021 at 10:40 AM
By Holly Peeples / November 22, 2021
Comment
A pool emergency can happen to any pool owner at any time of the year. There are a number of issues that can happen in the middle of unexpected freezing temperatures or power outages as well as in the middle of summer if a pool pump suddenly stops working. There could be a major storm that causes damage rendering pool systems useless or a myriad of other things. No matter the reason for damaged equipment, a pool that isn't pushing water through the filter can quickly turn into a yucky mess. If you run into an issue where you cannot operate your pool pump for more than a day, here a few tips and tricks to keep the pool water clean and clear.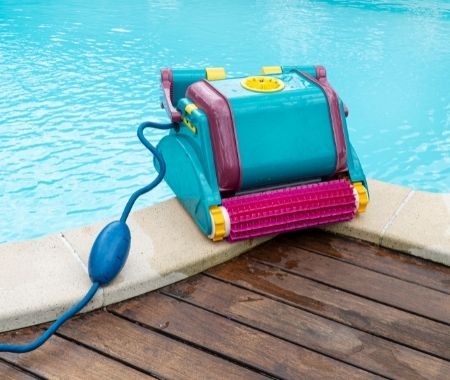 Remove debris from the pool
Any organic debris that has fallen into the pool can quickly use up the remaining sanitizing products in the pool or cause surface stains. It's important to remove as much debris as possible before you start any cleaning process. If cleaning up after a storm you might have quite a bit of debris to remove manually. You can use a leaf rake, a battery-powered cleaner, or a leaf bagger to remove the biggest amount of debris. Battery-powered cleaners and leaf baggers can also be helpful with circulation.
Sanitize the water
Make sure to test the sanitizer levels in your pool water and try to maintain them to at least 3 to 4 ppm of free available chlorine at all times. Since you currently are not able to rely on the pump to distribute the chlorine throughout the pool you will need to use fast-dissolving chlorine to help keep water sanitized during this time.
Add algaecide
If there are any complications in cooler weather you might not need to worry as much about this, but if you find yourself with a pool emergency in hot temperatures you will need to act quickly to prevent an algae bloom from taking place within the pool. There are certain algaecide products that can help you prevent algae outbreaks.
Circulate and agitate the pool water
Circulation is one of the most important attributes of healthy pool water. The pool pump has a main function of pushing water through the filter, but it also keeps clawing distributed throughout the entirety of the water. This makes it harder for any algae to thrive and live within the pool water or adhere to pool surfaces. Stagnant water that is not moving is a breeding ground for algae and bacteria and it quickly thrives there. Without a pool pump there are some ways you can keep the water moving within the pool to keep this from happening.
If you have power at your home one of the easiest options is to use a robotic pool cleaner. Some of these can be battery-powered and very helpful as long as they are fully charged. Robotic cleaners effectively circulate water as they move up throughout the pool. Another way to circulate pool water is with a submersible pump. You can place the pump at one end of the pool and use a clean garden hose to direct the outlet water to the opposite end of the pool.
If you feel like your pool equipment malfunction is beyond your ability to control, it is always a good idea to call on the help of a pool maintenance professional.
If you're planning on selling your luxury home on Captiva or Sanibel Island this year, give us a call. Would love to offer tips and suggestions on how we market your home and present it to potential vacation buyers or full-time residents.