Maintaining the Paint and Other Exterior Finishes of a Beach Home
Posted by Holly Peeples on Tuesday, April 11, 2023 at 3:52:37 PM
By Holly Peeples / April 11, 2023
Comment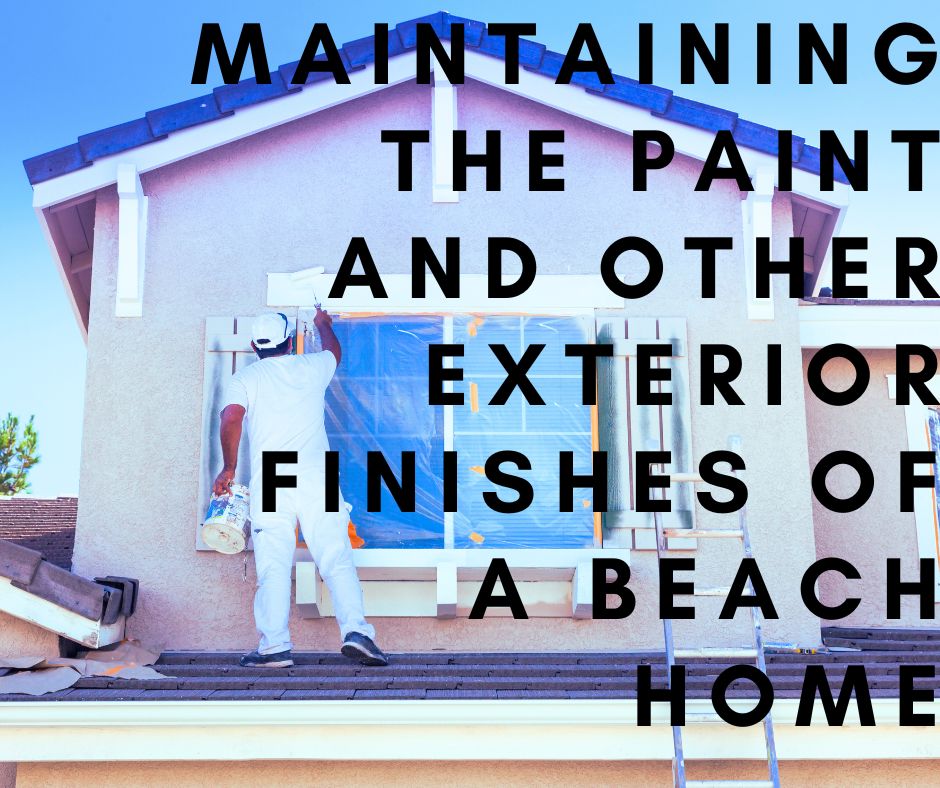 Being able to enjoy the sunshine, unmatched water views, and cool ocean breezes is what some people dream about their whole life. For Sanibel and Captiva Island homeowners it is an everyday reality. But the sun and salt air can also take a tougher toll on the exterior of a home. A home located on or near the ocean is going to require more exterior maintenance.
How coastal weather can damage the exterior of a beach home?
The salty air can do some damage to exterior home paint but the biggest contributing factor in damage to the exterior of a beach home is the sun. If you have a home on Sanibel or Captiva Island that is facing south or west you may get a little bit more exposure to damage. Even the best high-quality exterior home paints will need frequent maintenance under extreme weather conditions like being located on the coast. Some of the most common forms of damage to beach home paint include:
Bleaching
The UV or ultraviolet light that comes from direct sunshine breaks down chemical compounds in paint. With time you may find that the exterior paint on your Sanibel beach home is fading. This is a process called photodegradation. Some colors won't be as noticeable with fading as others. In some cases a portion of the home may get more sun exposure than another and an unsightly fading or bleach spot becomes present on the exterior of the home. Colors that are most prone to bleaching are darker hues that are actually very popular and trendy right now in 2023.
Bubbling and Blistering
Living in very warm climates sometimes paint can begin to bubble and blister and look like it needs to be popped. Under extreme heat, these bubbles may actually do that. What is causing this is the paint is becoming so hot it starts to in a sense boil just like water. You want to avoid the bubbles popping and not just leave them because this exposes the materials underneath to the elements. This is especially damaging if it is a painted wood surface.
Chalking
The process of chalking is when you may see white dust form on the surface of your paint. This happens as the sun dehydrates the paint and causes chemicals to rise to the surface. It is called chalking because the powder that rises to the surface is often white in color and looks like chalk dust in a blackboard tray. One of the ways professional painters help to delay this is by using priming and the highest quality paint possible.
How to care for your exterior paint at your Sanibel or Captiva home
Homes that are right along the coastline or just steps from the beach should expect that the exterior of their home may need yearly maintenance for painted surfaces. In some areas, homes might need twice a year attention. The best way to take care of damage to exterior paint from the natural elements of weather at a beach home is with frequent inspection and preventative measures.
Prepping correctly when your home needs repainted is crucial
If your Sanibel or Captiva beach home needs to be repainted it is very important that the proper steps to prep for new paint are taken. Any paint that is peeling needs to be sanded off for complete removal. After damaged paint has been removed make sure to look for any warping or rotting in the wood. If you paint over a damaged surface the paint will not hold up as long as expected or it will cause further damage to the material underneath the paint. It could also cause the paint not to adhere to the surface.
For more information on beach home real estate on Sanibel and Captiva Island please contact us anytime.