Neighborhoods with Amenities on Sanibel
Posted by Holly Peeples on Thursday, September 14, 2023 at 3:01 PM
By Holly Peeples / September 14, 2023
Comment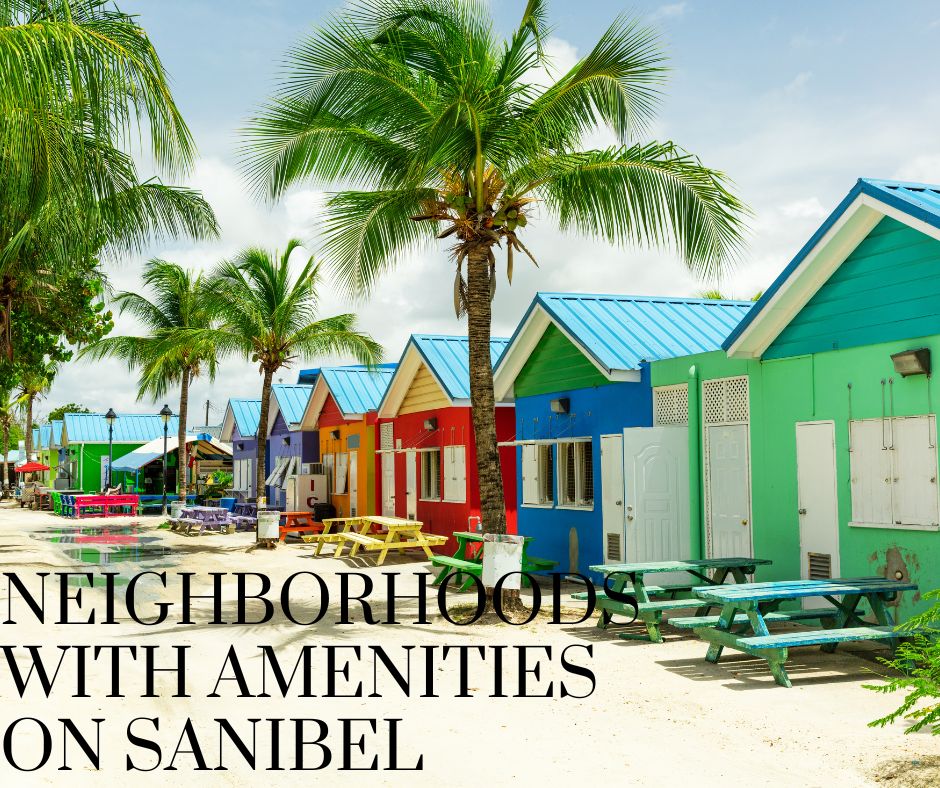 Every housing community on Sanibel Island has its own unique culture and appeal. We believe there really is no undesirable location to be on Sanibel. Sanibel is a dream destination to own a property. But potential Sanible buyers all have their specific personal preferences regarding what they would like to see in a dream island home. Some homebuyers might be looking for a home within a community that offers community amenities they can utilize and benefit from the HOA hiring professional help to maintain for a smaller HOA dues fee. They may also enjoy getting to see and know neighbors in the community while utilizing these shared community perks.
Here are some of Sanibel's Most Popular Housing Communities that Offer Amenities
Seagull Estates
Seagull Estates is described as the homeowner association page would say, across the street from the Gulf of Mexico. This small housing community is home to 58 old Florida-style homes. Some of the homes offer a lake in the backyard and many have a border on conservation land. Seagull Estates is a peaceful area with plenty of wildlife coming to visit.
The community amenities of Seagull Estates include a charming clubhouse that can be used for parties as well as community social events. There's also a heated pool, tennis courts, water aerobics classes, a garden club, and several bike paths winding through the community. In addition to all this homeowners benefit from deeded beach access which is right across the street.
Victoria Cove
The Victoria Cove community is on the east end of Sanibel Island and is incredibly small with just seven single-family properties. The small community does not have the expected amenities but there are some good ones to consider within this quiet space. There is a community gazebo and a place to dock your boat along the seawall on the canals. There are also some great open common areas and the maintenance fees include the upkeep of plenty of green space and all common areas.
Seaspray
Seaspray is a community of 23 homes on Seaspray Lane just off of Sanibel Captiva Road on the west end of Sanibel. Homes in Seaspray are popular for their gulf frontage. The community offers a pool, two tennis courts, and deeded beachfront access to the Gulf of Mexico. It is one of the most visually stunning locations with some of the most luxurious private homes on Sanibel.
Periwinkle Pines
Periwinkle Pines community, just as the name implies, is located just off of Sanibel's main street, Periwinkle. This is a small housing community with a pool and tennis courts. In addition to having its own private spaces for homeowners, it is a very walkable neighborhood to Sanibel Island businesses including grocery stores and restaurants. It is also very close to the public library and the popular Sanibel bike path.
The Dunes
The Dunes is Sanibel Island's largest housing community with 333 acres of land bordering a wildlife preserve. The amenities within the dunes are highly desirable and popular especially the golf course and tennis club. The golf course is a par 70 surrounded by scenic lakes and lush greenery. The tennis club features 14 har true tennis courts and a full-service pro shop. In addition to these is the clubhouse with amazing restaurants and a heated swimming pool area.
Beachview Country Club Estates
Beachview Country Club Estates is nicely tucked near Sanibel Island Golf Club. The community offers 224 homes and benefits from proximity to the 18-hole golf course at the Sanibel Island Golf Club. The club also features tennis courts a pro shop and restaurants. Homeowners enjoy beautiful views of the beach, water, and fairways as well as small lakes from their homes.
Butterknife
The Butterknife community is home to just 35 single-family properties within a private gate. This interesting community name comes from the shape of the community itself and the main street through the community Starfish Lane. The community offers a swimming pool, tennis courts, and deeded beach access which is directly across from the community at Knapps Point.
Ferry Landing
Ferry Landing holds 18 homes with impressive old Florida-style architecture. Homeowners in Ferry Landing have the use of several tennis courts, a swimming pool, and a fishing pier. They also benefit from being within walking distance of the famous Lighthouse Beach Park. There are also several great trails to utilize and enjoy outdoor space near the neighborhood.
Foley
The Foley neighborhood is one of Sanibel Island's smallest housing communities with only eight homes. It is located off of Periwinkle Way on Martha's Lane. This small community still offers a community swimming pool and tennis courts and being smaller makes it easy to know everyone living within the neighborhood.
Gulf Ridge and Gulf Ridge East
Gulf Ridge and its newer sister housing community of Gulf Ridge East offer a nice collection of unique community amenities to its homeowners. There are two community swimming pools, tennis courts, two deeded beach access paths, and a kayak launch dock located on Clam Bayou. In this community, you may see golf carts used as a preferred mode of transportation to travel from home to the beach and around the neighborhood.
Herons Landing
Heron Landing is a West Sanibel housing community desirable for the location near one of Sanibel's most popular beaches Bowmans Beach. Homes also overlook the Clam Bayou and border portions of the JN Ding Darling National Wildlife Refuge. The homes in this neighborhood are all custom-built and unique one-of-a-kind masterpieces. Community amenities include a pool, spa, tennis courts, community boat dock on Clam Bayou, and beach access.
Island Woods
Island Woods is located centrally on Sanibel Island in a lushly wooded location. Homeowners benefit from a community swimming pool with lap lanes, two tennis courts, and easy walkable access to a 20-mile system of biking and walking trails. It is not a waterfront location but one of the most popular inland locations on the island.
Kinzie Island
Kinzie Island might offer the most private location on Sanibel being on an island within an island. This location is of course surrounded by water and also has a gated private entrance. Kinzie is home to some of the most beautiful estate-style homes on Sanibel. The community offers a swimming pool, bocce ball courts, tennis courts, half basketball court, shuffleboard, and a private path to beach access that also has a private club room that holds beachside lockers.
Sanctuary at Wulfurt
The Sanctuary at Wulfert is on the northwest corner of Sanibel Island. It is a private master-planned community with a golf and tennis club. It is one of the most highly desirable housing communities to live on Sanibel. The private golf course offers an 18-hole game and a smartly designed course that blends seamlessly into the neighboring nature preserve. There are also five Hydro grid soft clay tennis courts, a fully equipped fitness center, and a large clubhouse offering both formal and casual dining as well as social events.
Harbour Cottage
Harbour Cottage is one of the first residential housing communities that greet you as you come off the causeway and reach Sanibel Island. It is home to a very small collection of properties and offers a private dock along a concrete seawall on one of the widest canals on the island. There's also a heated community swimming pool, barbecue grill areas, and two tennis courts.
This is just a small number of the great communities on Sanibel Island. There are more communities on the island that offer deeded beach access but we thought we would stick to communities with single-family properties that offered additional amenities for homeowners to utilize.
If you are interested in finding a home in any of these communities with amenities or would like more information about Sanibel neighborhoods that may have a home you are specifically looking for please contact me. I am highly knowledgeable in Sanibel Island real estate and I'm here to help you find the Sanibel Island home that fits you perfectly.