New and Re-Opening Soon Businesses on Sanibel Island
Posted by Holly Peeples on Monday, September 18, 2023 at 8:44:41 PM
By Holly Peeples / September 18, 2023
Comment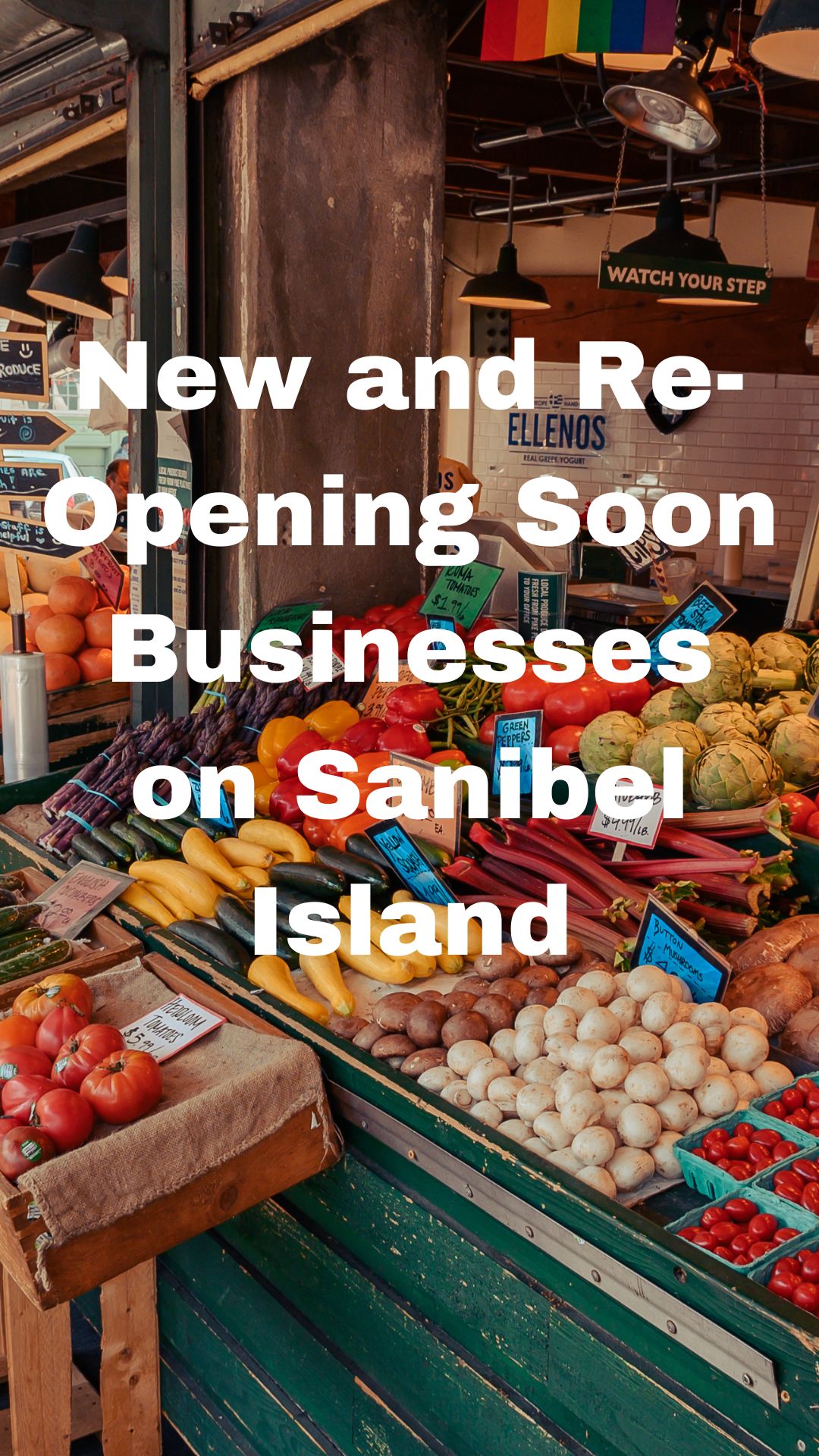 A frequent question many Sanibel Island residents, both long-time and seasonal, have (as well as vacationing visitors) is "When will a certain business open back up". Or "What is currently open on the island?" As the island continues to get back up on its feet from Hurricane Ian there are many constant changes happening. Here are the businesses planning to open in the coming weeks.
Sanibel Farmers Market
People love the farmers market on Sanibel. Here you can buy the freshest local goods. The market is anticipated to reopen for the 16th annual season on Sunday, October 1. The farmers market is located at City Hall on Sundays from October through May even on Easter. The hours of the market are 9 AM to 1 PM. The farmers market is excited to be up and running and promises that the market will be better than ever. It is the best place for the freshest produce and the most beautiful flowers and plants. You can also find a great collection of locally made treats including baked goods, honey, ready-to-eat meals, handmade unique gifts, and more.
Sanibel Siesta
This island resort is now accepting online reservations for vacations starting in March 2024. As we get further along in the year the resort will post if they plan to open up for availability sooner in January 2024. It is good to make reservations as soon as possible and you can do so at their website at www.sanibelsiesta.com
Bleu Rendezvous French Bistro
This beloved French Bistro will reopen for the ninth season on Friday, October 6. The bistro is located at 751 Tarpon Bay Rd. They took a short break during the summer but are back up and running at full capacity for the fall.
Sanibel Island Beach Resort
This popular resort is located at 1231 Middle Gulf Dr. It was formally known as the Holiday Inn to some. There's been many renovations recently and they have announced that they plan to open at the end of this month on September 20. They will be accepting online reservations you can visit their website at www.oceanbreezeinns.com/sanibel-island
Shiny Objects
This fun retail shop on the island is located at 1999 Periwinkle Way it is already open and running and ready for visitors at the same location in the Tahitian Gardens.
Tuttles
This fun shell shop is open and running as well. You can find them at 362 Periwinkle Way at the same location as before.
There are two new restaurants coming to the island as well!
Magic Bus Ice Cream and Caffeine
This new fun coffee location will open up where the former Sanabel Ice Cream was located
Wickies Lighthouse Restaurant
This restaurant will take the location of the former landmark restaurant the Lighthouse Café. The Lighthouse Café has moved to a new location just at the end of the Sanibel Causeway on Periwinkle. Wickies restaurant is a new venture from long-time restaurant owners on Sanibel, Brian and Elke Podlaski of The Island Cow partnered with Max and Bridget Kolshack from The Mad Hatter. (they are the parties opening the new ice cream shop as well) They are currently renovating the space after it was hit by the storm and plan to serve breakfast, lunch, and dinner and offer a full bar with signature drinks.
The name Wickies gives a nod to the lighthouse theme that the space has always held. Wickie was the nickname given to the lighthouse keepers as they had the important task of trimming the wick and making sure that the lamp never went out in the lighthouse.
Finding Out When Businesses Are Opening
If you're curious about what Sanibel businesses are opening or when they plan to open soon or have already opened the Chamber of Commerce keeps a great list of running island businesses and frequently updates with the latest information. You can find them at www.sanibel-captiva.org
For more information on what is happening around Sanibel please feel free to browse through our blog. We have several great articles about what it is like to live on Sanibel, and what is going on around here, as well as finding the perfect spot to settle into and advice for buying and selling a Sanibel Island home.
If you are interested in current available Sanibel Island real estate please contact me. I am here to help you find the best Sanibel Island property that fits your wants and needs at a price within your home-buying budget.