Preparing for Tropical Storms on Sanibel
Posted by Holly Peeples on Monday, August 22, 2022 at 12:05 PM
By Holly Peeples / August 22, 2022
Comment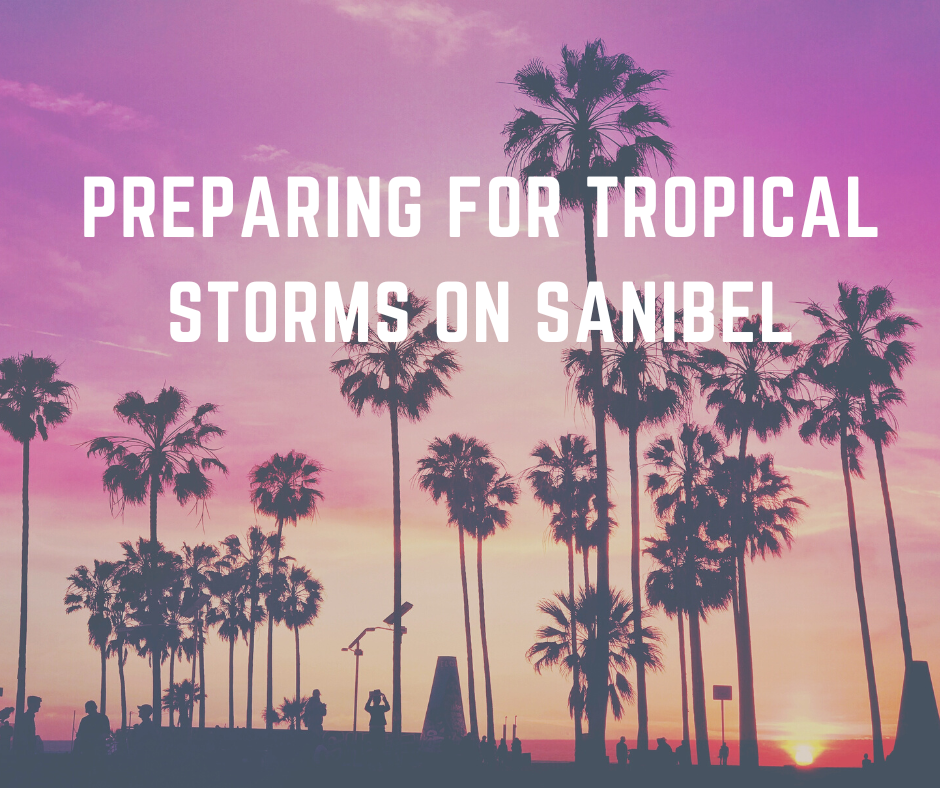 The entire state of Florida is an area that sees tropical storms and hurricanes. The Atlantic Ocean hurricane season is June 1 through November 30 each year. While some people may be reluctant to move to areas like Sanibel Island because they are concerned about tropical storms if you think about it every area of the country has its own natural disaster to be aware of.
Here's information to know about storm season on Sanibel Island when you own a home
Plan And Plan Some More, Be Ready at All Times
It is wise to be prepared at all times for tropical storms and hurricanes when you live on Sanibel Island and in all of Florida for that matter. You want to make sure that you always have a storm emergency plan in place. The best way to make sure severe storm weather has a lesser impact on you personally is to have precise planning and preparedness.
The Sanibel Island Fire Control District Fire Chief Jeff Pawul has shared that waiting until a hurricane is approaching may mean facing supply shortages and traffic jams from evacuations. It is always better to take a proactive approach when it comes to tropical storms and hurricanes. Having all of your stuff ready to go during stormy weather or having go bags ready should you need to evacuate is always in every Sanibel homeowner's best interest.
Not every stormy season is going to have a major storm but it is always best to make sure you have your plans in place so that you don't have to scramble at the last minute. Just like people living on a fault line in California should be prepared for earthquakes. And those living in very hot and dry climates during the summer should be prepared for wildfire.
Test Storm Equipment
If your home does have preparedness measures in place such as shutters, a generator, and/or other storm protection equipment it is a good idea to regularly test this equipment for its efficiency and operation. You do not want to be in the middle of a storm only to find that your equipment is failed. You also want to make sure you have non-perishable food provisions if you need to shelter in place for a significant amount of time. You should be making sure you are checking these food stores for anything that may be expired or has gone bad or has leaked etc.
Make a family plan and make sure everyone in the family knows
Having a family plan that is clearly communicated to every member of the family is very crucial. You want to decide factors like what will happen in the event of an evacuation. Who will perform which job to make sure everything and everyone is safely in the car to pull away from the home? And when vehicles pull away from the home where will they meet up? Where is their safe meeting place? You want to make sure all of these factors are thoroughly thought about and communicated to everyone in the family. It is also a good idea to have this plan typed up and printed out and placed in your emergency kit as well as in a safe place that everyone in the family can easily access when it is needed.
Make sure your landscape is properly maintained
It is a good idea to make sure that your property is well-maintained and always ready to withstand the impact of a storm as much as possible. One of the most important things you can do to help protect your property from more damage during a storm is to trim trees and branches and make sure that all trees of significant size are in good health on your property.
Hurricane Re-Entry Passes
Both residents and business owners of both Sanibel and Captiva Island need to make sure that they have a hurricane re-entry pass to return to their property after a storm evacuation. In addition to this it is a good idea for every resident to sign up for the Alert-Lee notifications to make sure that they are receiving all necessary emergency notifications in Lee County. You can register for these at www.mysanabel.com.
You can find more in-depth emergency management information at mysanibel.com. as well. It is always best for homeowners to be proactive so that they are ready for storm impact because those that take you by surprise will bring a bigger impact.
Storms that require major attention are not a frequent occurrence on the islands but are always worth taking the right steps to prepare for. Taking the proper precautions means you will have less to worry about in the event of stormy weather on the island. The islands are a beautiful place to live and just like anywhere homeowners should be knowledgeable of possible weather patterns that could affect their homes.
For more information on living on Sanibel or Captiva Island including all available Sanibel and Captiva island real estate please contact us anytime.