Sea Turtle Nesting Update - Sanibel & Captiva Islands
Posted by Karen Bell on Friday, July 18, 2014 at 11:13 AM
By Karen Bell / July 18, 2014
Comment
Sea Turtle Nesting Statistics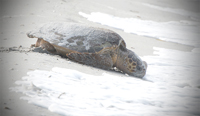 The Sanibel-Captiva Conservation Foundation reported the following
nesting statistics as of July 4th.
Sanibel East: 65 nests, 1 hatch
Sanibel West: 203 nests, 10 hatches
Captiva: 92 nests, 7 hatches
Please: Turn off or shield lights near the beaches. Artificial beach lighting can inhibit female sea turtles from nesting and disorient hatchlings.
Remove furniture and other items from the beach and dune area, when not in use, between the hours of 9:00 P.M. and 7:00 A.M.
Level all sandcastles and fill any holes dug during play. Please leave the beach as you found it, so that sea turtles and hatchlings are not hindered on their way to nest or to the water.
Pick up all trash. Sea turtles mistakenly eat debris, especially plastic, which results in death.
Honor the leash law. All dogs on the beach must be on a leash and not allowed to disturb nesting turtles or hatchlings.
Information provided courtesy of the Sanibel Captiva Chamber of Commerce through the Sanibel-Captiva Conservation Foundation.