Living In Harmony with Sea Turtles in a Beach Front Home on Captiva Island
Posted by Holly Peeples on Monday, July 12, 2021 at 10:33 AM
By Holly Peeples / July 12, 2021
Comment
Sea turtles are a huge part of Florida's natural wildlife especially on Captiva Island and in Sanibel. It is important that those who live on the beach know how to live in harmony with these gorgeous creatures so that they will be around for generations to come.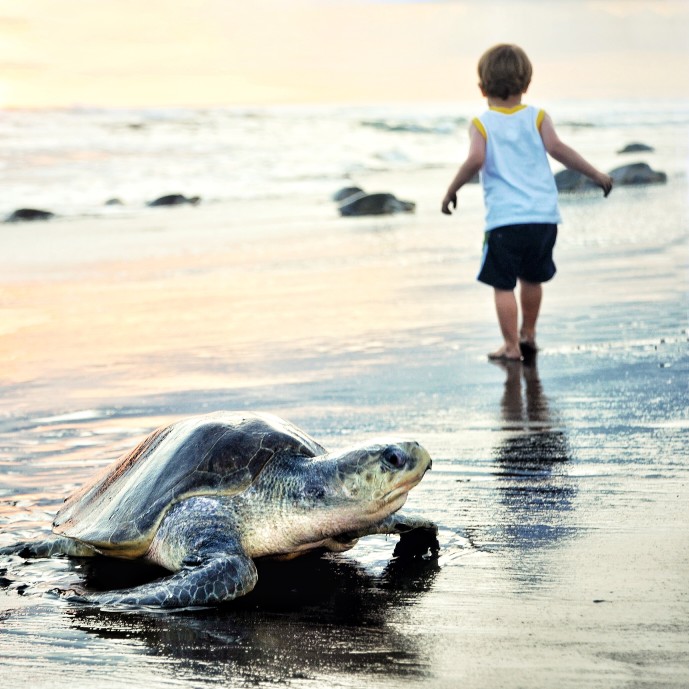 In 2015 the city of Sanibel Florida received a $6000 grant from the Sea Turtle Conservancy License Plate Grant Program. With this grant, the city has initiated a new educational campaign with the slogan of" after nine it's turtle time" to help residents remember as well as visitors and vacationers to close curtains and blinds and turn off any outdoor lights after dark.
Sea turtle nesting season begins May 1 on Captiva Island and ends on October 31 every year.
Hatching sea turtles are guided to the ocean by an instinct to travel away from dark silhouettes in the dune vegetation and toward the horizon line to the water. This spot provides light from the sky reflecting off of the ocean waters that guide them "home". Artificial lights such as those over decks and porches near the beach can deter females from nesting and even disorient hatching sea turtle babies. A large number of hatchlings then end up wandering inland and die of exhaustion, dehydration, or even being caught by a predator. There are local ordinances in effect around the whole year to prohibit both interior and exterior lights from illuminating the beach for any structure built along the beach.
Sources of light that cause issues for sea turtle hatchlings
Interior lighting
It is not only the outside lights that are shining right onto outdoor areas on the beach that can cause disorientation for a hatchling sea turtle. Even just one light in a small beachfront condo is enough to disrupt a sea turtle from finding the water.
Exterior lighting sources
This is probably the most thought-about light source when people think of lights that could detour a sea turtle hatchling from finding the sea. This can be exterior lights including floodlights, porch ceiling fan lights, parking area lights, and any other lighting fixture that would be directly, indirectly, or just barely illuminating any area around a nest in the sand.
Portable lighting sources
Some people have attempted to walk along the beach after dark on Captiva Island and other areas of Florida in hopes to get in a peaceful walk or to come upon a sea turtle ready to nest or in the middle of nesting, or watch cute little baby turtles on their way to the ocean. While these people mean no harm, if they are carrying a flashlight lantern or are using a camera with flash photography all of these things can be detrimental.
Helpful solutions that help tiny turtles
Close all curtains and blinds in windows facing the beach or on the side of your home that could create light for the beach or turn off lights
As soon as it gets dark all shades should be drawn even over windows and sliding glass doors that are tinted with what is called turtle glass. Blackout shades are extremely helpful if you would like to continue using lights in rooms with windows that cast light onto the beach.
Shield or turn off all lights that are outdoors near or facing the beach that creates light on the beach
You can replace all outdoor lights with low-wattage bulbs or yellow or amber bulbs that are LED to help drastically reduce the amount of light on the beach or you can set up these lights with timers to be off during peak nesting times or hatching times.
Avoid using any flashlights, lanterns, and flash photography while on the beach after dark
If you would really like to go beachcombing after dark you can cover the lens of your flashlight with red cellophane to help make it less disruptive for sea turtles on the beach.
There are countless amazing great beach properties on Captiva Island Florida. It is without question that so many people love to live and visit in this location of Florida. For more information on real estate in Captiva Island please contact us anytime.
No Matching Listings
Try a new search, or click below to get notified when matching listings become available.