Shopping Tips for Finding a Family Vacation Home on Sanibel Island
Posted by Holly Peeples on Monday, June 19, 2023 at 2:43:25 PM
By Holly Peeples / June 19, 2023
Comment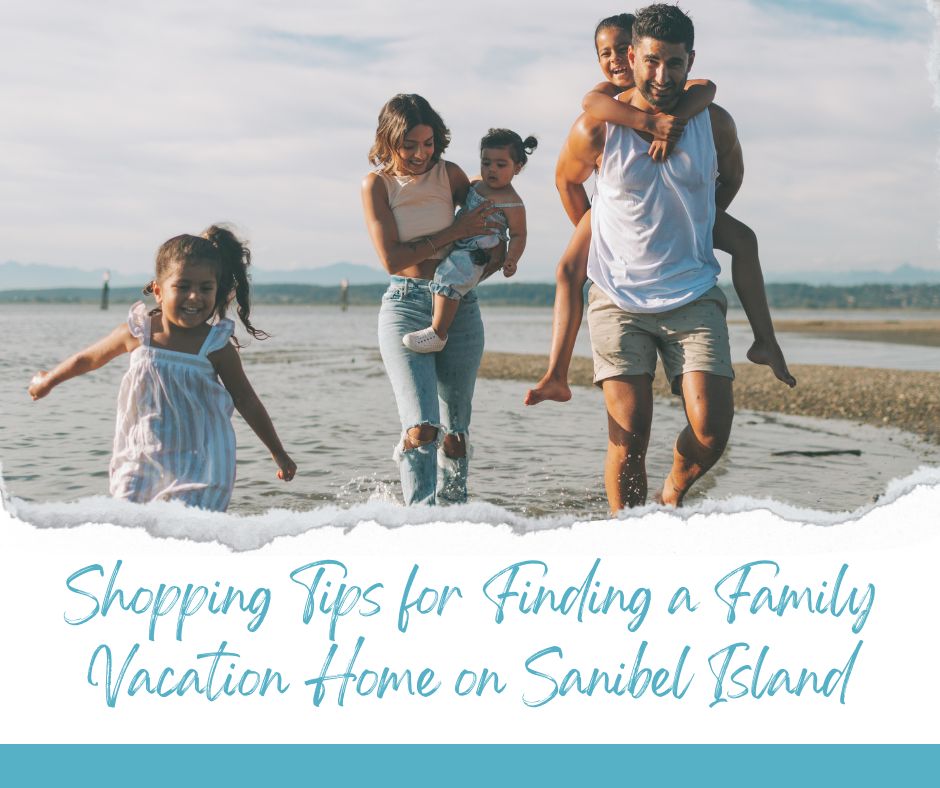 If you are looking to purchase a vacation home for your family to have a place to frequently get away and have chosen Sanibel Island we believe you have made a perfect choice in vacation home destinations. But what about finding that perfect Sanibel Island vacation home that fits your family exactly how you hope? Where do you begin your family vacation home shopping? How do you find the best Sanibel Island vacation home to meet your needs and wants? No need to worry! We are here to help!
When you are looking for a family vacation home on Sanibel Island we are your best choice realtor. We are highly knowledgeable and award-winning and can give you the best insider information about finding even the smallest details you are looking for in a Sanibel vacation home.
Here are some tips for purchasing family vacation homes on Sanibel Island
Call a family meeting
When buying a home those that are actually purchasing the home or will be responsible for paying off the loan will of course have the biggest decision-making power. But, it is a great idea to sit down with your family and discuss what a great vacation home on Sanibel Island might look like to them. What does an ideal relaxed and frequented vacation spot need for your family? What does your family like to do when they are relaxing? What do you enjoy within your family culture? How does this translate into what a vacation home might need to have to help you make your frequent vacations a reality?
Consider a few rentals before purchasing
The best way to get to know the different types of vacation rentals available on Sanibel Island is to stay in and rent one out before making the big commitment of a purchase. Try out a couple of different vacation property types to get the best feel for what is on Sanibel Island and the different attributes of these properties that you like or that don't work for you. Make sure to also try out different locations along the island as there are different communities/cultural atmospheres in each part of Sanibel.
Visit more than one time
Buying a vacation home in any one location means that you love the location and want to return time and again. Make sure that Sanibel is the spot you can see yourself returning to at least once a year to justify purchasing a second home. You want to make sure that it makes sense to purchase a home that stays in one place. You want to make sure it is a place that you will not easily tired of or get bored with. Do this by visiting more than once in a short period of time. This will help you to get a feel for if your family really will be able to come back frequently to the same spot and enjoy their time at the vacation property.
Try to discover a new thing you didn't know about the island each time you come. This will help you to truly get to know Sanibel island and really determine if you are falling in love with the island as we have. It is not hard to fall in love with Sanibel but you want to truly make sure it is a place your family will enjoy themselves.
Consider what works in your first home
When shopping for family vacation properties you probably have a mindset that a second property is going to be like a home away from home in the most perfect dream destination that allows you to feel like you are getting away from the hustle and bustle of your weekday life. A great way to create a home away from home is to think about the attributes of the home you live in full-time and ask what is it about this home that is comfortable and that works for your family. This is a great launching point for finding must-have attributes of a Sanibel vacation property. Maybe it is that the kitchen is spacious and allows everybody to gather there in the mornings for relaxed breakfasts and planning out the activities of the day. Or maybe it is that everybody has their own bedroom space to be able to retreat and get some downtime to themselves after active busy days of exploring the island.
Making children feel comfortable and like their vacation home really is an extension of their first home will help them to fall in love with family vacation time away from all the comforts of their actual full-time home.
Consider a space that will grow with you
It is great to search for a Sanibel vacation property that will meet your needs right now. But when you have growing family members you want to make sure that this property will also be able to grow with them. Try to think about what the entire family might need as your kids become older and their interest change and shift. Right now they might enjoy plenty of space outside or a pool in the backyard. In a few years, they may be interested in having an extra living space where they might be able to entertain friends that they have made who also vacation or live on the island.
Purchasing a vacation home for your family to enjoy time together and make memories as you grow is a great plan for Sanibel Island. We believe this is the perfect family vacation destination and also a great place to settle into full-time. If you are ready to begin your Sanibel Island vacation home shopping please contact us we are prepared to help find a home that suits you.