The Pros and Cons of Pocket Listing
Posted by Holly Peeples on Monday, August 16, 2021 at 11:48 AM
By Holly Peeples / August 16, 2021
Comment
Prior to the pandemic, some homeowners chose to keep their home sales more private with a pocket listing. In today's very lucrative real estate market where many more buyers are interested in a small number of homes, more sellers are considering taking the unconventional approach of intentionally limiting their house visibility to prospective buyers by going the pocket listing route. A pocket listing is a home that is not put on the MLS for the general public to see and know about.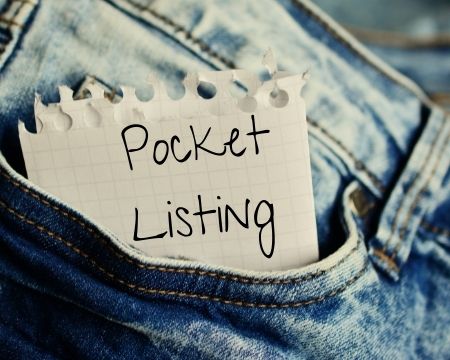 Most real estate is listed with the multiple listing service (MLS) by a real estate agent. The MLS is a regional database of homes for sale across the country available for anyone to look up online. When the house is posted on the MLS it's automatically shared with other agents and listing sites such as Redfin, Zillow, and realtor.com where anybody looking for a home can find it.
Pocket listings do not appear on these websites and never get plugged into the MLS. Instead, real estate agents with pocket listings will market these homes to a specified circle of agents to create a more exclusive network of buyers.
So in other words, a pocket listing is a privately sold home. Buyers need to have some sort of connection to the real estate brokerage listing the home, or the home seller in order to know that the property is up for sale. Since the beginning of the pandemic, more and more homeowners have gone the way of a pocket listing their homes. Redfin has reported the number of homes listed immediately marked as sold or pending has risen from 1.8% in June 2019 to 2.8% in June 2021. Home listings where this occurs are more than often pocket listings where the home was marketed privately before being put on the MLS. Pocket listings are most often used by home sellers that would like to retain privacy and limit the number of people coming to view the home. With the pandemic bringing strangers into homes and not knowing their health status a pocket listing has become more intriguing to many home sellers.
The Benefits of Pocket Listing
Privacy
If a seller does not want a lot of foot traffic coming through their home a pocket listing gives more control over who has access to the home and who is viewing it helping to preserve more privacy. In many cases, high-end homes and prominent community members will choose to remain quieter by keeping their homes off of the MLS.
Some buyers opting for a pocket listing may also find a constant stream of visitors and the need to keep their home immaculate around the clock frustrating.
It gives a way to test out the market
If you are unsure that you truly want to sell your home, a pocket listing allows you to test out the market to see if buyers are willing to purchase your home at the price in which you hope to sell it. It is a good way to glean information on the current market status and how interested buyers are in your home. It can also help you to prevent mispricing your house which can be hugely detrimental even in a seller's market.
Lower expenses and fees for selling
Not having to market a home helps to save on selling costs. You may not have to hire a professional photographer to take listing photos and some real estate agents may be willing to lower the charge of commission when they do not have to make bigger efforts to market the property to the public.
The Downside of Pocket Listing
Lower sales price
Selling your home to a smaller batch of buyers that know your home is for sale could prevent you from receiving top dollar for the home. There will not be as many buyers competing for the property so it's possible that the home will not see a bidding war as is the case with many homes that are publicly listed right now. Current data shows that homes listed on the MLS have sold for around 17% higher than homes sold off of the MLS.
Potential fair housing violations
The whole concept of a pocket listing is controversial because some fair housing advocates say it promotes housing discrimination. These people say that it creates an exclusive group of buyers and pushes out other potential buyers that may be able to purchase the home, but do not run in the same circles.
The home does not sell as quickly
A smaller pool of buyers means a chance that the home will not sell as quickly as other homes that are publicly listed. If you are hoping to sell your home within a certain amount of time it would be a much better idea to have as many people as possible know that the home is for sale.
For more information on real estate in Sanibel and Captiva Island please contact us anytime.
Find Out How The Bell Team Markets Your Home