Three Focuses for Building a Hurricane Resistant Home on Sanibel in 2023
Posted by Holly Peeples on Tuesday, March 28, 2023 at 3:01:11 PM
By Holly Peeples / March 28, 2023
Comment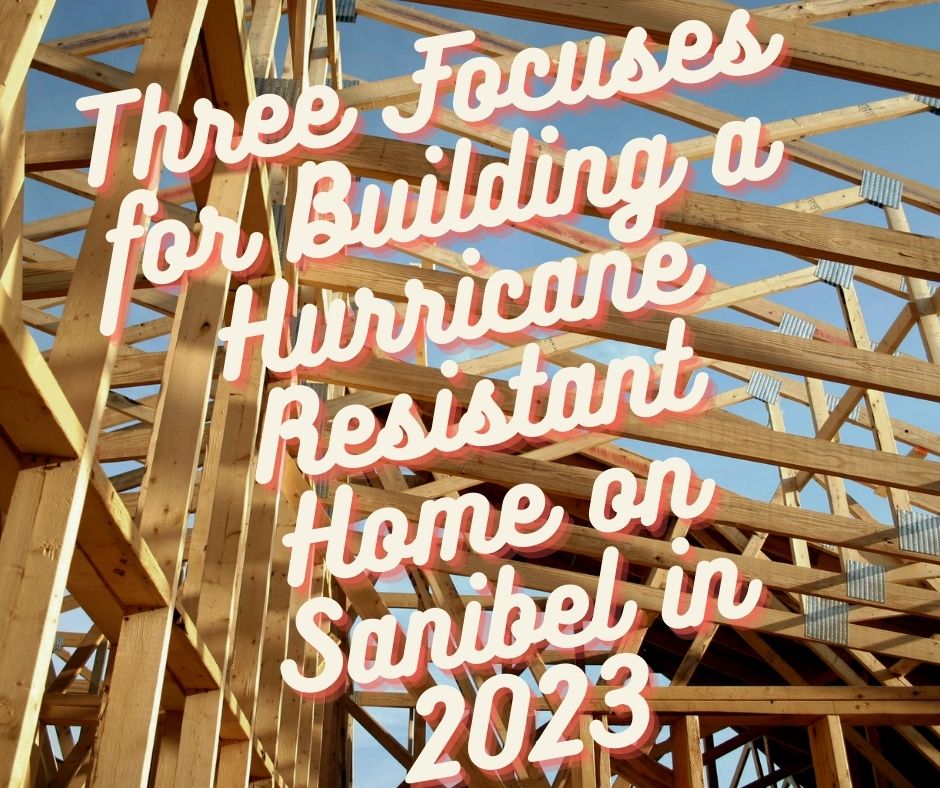 There's so much to be done on Sanibel Island and Captiva Island to restore properties after the effects of the hurricane just six months ago. Some properties in the most harshly hit areas of the islands were completely flattened to the ground and will need to be rebuilt from the ground up.
Though it is devastating to have a complete loss of a property, it gives the opportunity to rebuild a home with the utmost and up-to-date safety measures to withstand storms in the future. Many newer structures that comply with the latest hurricane safety building codes for Lee County and the state of Florida were able to withstand the storm with minimal damage.
Here are three safety areas to focus on when rebuilding a Sanibel home from the ground up
Tie downs
With every storm more is learned about building structures with safety measures to help reduce the amount of damage and loss to buildings in the middle of a hurricane. Building codes have come a long way in the last couple of decades alone to help ensure that Florida homeowners are safe and have a home to return to when a storm hits.
One of the most important building requirements of newer structures in the state of Florida is the use of tie-downs. This is mostly focused on tie-downs used on the roof of a structure. Tiedowns help to direct the load path from strong winds on the roof and the walls down into the foundation of the home. Making sure you have proper roof tie-downs and going the extra mile to put tie-downs into walls can make all the difference in a home standing up to 150-mile-an-hour winds.
Impact resistant measures
Installing reinforced impact-resistant materials in a structure is also highly important. The first area of focus would be on impact-resistant glass in homes in hurricane areas. This is especially important for homes along the coastline that see storm surges that are significantly stronger.
Materials that can lend a hand to impact resistance include hurricane windows, shutters, pull-down PVC shutter systems, high-impact synthetic window shades, advanced framing systems, and impact-resistant garage doors.
Making sure the home stays dry
There are several measures you can take in rebuilding your Sanibel Island home to help keep it as watertight and flood resistant as possible. This can include building the home on stilts. Building the ground floor with a focus on containing areas of the floor plan that are not crucial to the vital functions of the house. Using items like sealants, waterproof membranes, house wrap, green screen systems, and using mold and mildew-resistant building materials to reduce the water damage to your new home.
Measures to keep the home resistant to rain waters and storm surge waters at the roofline include using a self-adhesive ice and water shield on the roof deck and taping underlayment seams with flashing tape. These can be extremely helpful should any damage happen to the roof of the building.
There are many great new products that can help to make a home stand strong against severe storms. They do come at an extra cost but that extra cost is sometimes a huge saving in comparison to how a home can withstand a storm and having to repair and recover afterward.
For more information on Sanibel Island properties please contact us anytime.