Useful Info About Hurricane Ties and Straps for Sanibel Homeowners
Posted by Holly Peeples on Monday, March 6, 2023 at 6:00:49 PM
By Holly Peeples / March 6, 2023
Comment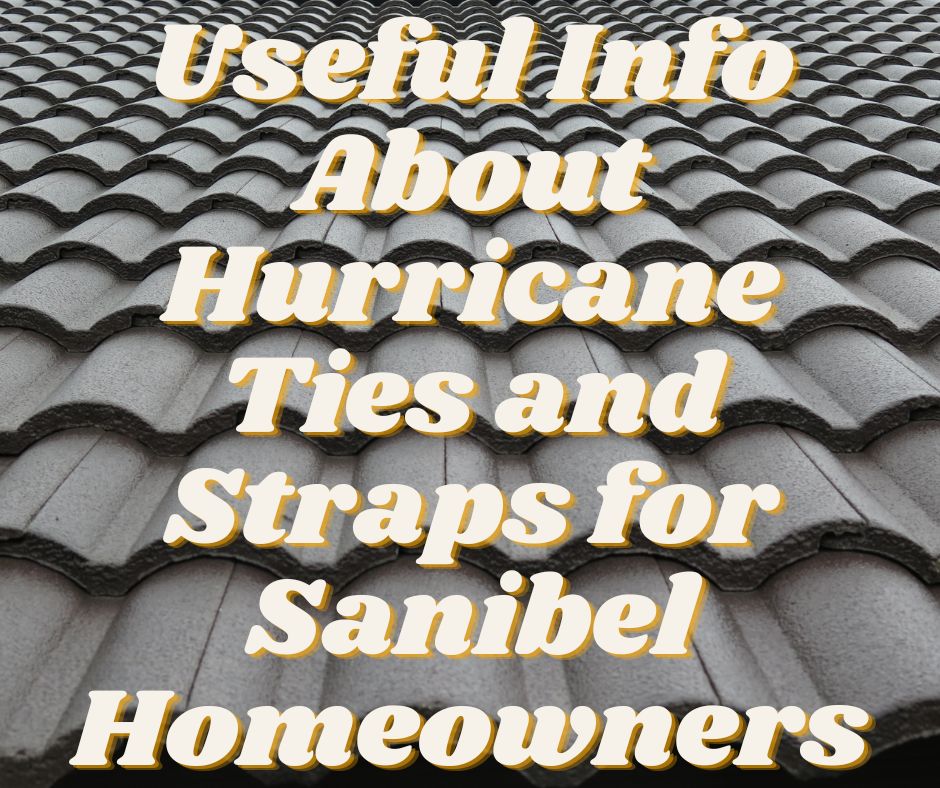 As you restore your Sanibel Island home from the aftermath of Hurricane Ian and gear up for another hurricane season around the corner, you may have questions about hurricane ties and straps. Some Sanibel Island homeowners that saw little damage may be wondering if they are required to have these safety items in place on their homes.
On a state level, the code requirement for hurricane ties is pretty strict. This is because Florida is highly susceptible to the effects of hurricanes, and they are meant to save homeowners from the headache of loss and damage as well as keep them safe should they decide to stay in their homes during a storm.
Current Florida state building codes state that all homes must have frame strengthening help in the form of hurricane ties and straps in order for a building to better withstand high winds. Here is some helpful information about hurricane straps and ties for Sanibel and Florida homeowners.
What Hurricane Straps and Ties Are/Do
Hurricane straps and ties are common devices used in construction to give the roof of the structure extra security and hold stronger in high winds. Most hurricane ties are made of metal or nylon. They are put into place near the building's roof trusses or joists. You may also find ties or straps put near where wall studs meet the floor.
The size of the strap or tie used is dependent upon the size and weight of the building and the roof. You can also find ties made for specific types of joints. Hurricane ties are essential safety equipment to keep roofs secure and they also help to make walls sturdy and prevent collapse.
The Reason Florida Requires Hurricane Ties
The state of Florida has one of the most detailed and precise hurricane safety building code requirements in the nation. This is because of the location on the hurricane belt almost floating out in the Atlantic Ocean. Florida experiences more hurricanes and tropical storms than any other location in the United States.
Florida code requires every building constructed after March 1 2002 to have hurricane ties and straps. This includes any building undergoing a renovation that was built prior to this date. It is best to make sure you contact your local zoning office in the county or city where you reside as their building codes may require more than the state codes. It is also good to check in right before any work on your home because codes are constantly changing.
How to Find the Best Hurricane Ties and Straps for Your Home
When choosing which hurricane ties and straps are best for your Sanibel home you want to consider a few factors of the location where you live. The first thing to consider is the wind speed ratings for the area your home is located. After finding the wind speeds of your area you need to find the weight of your home's roof and the entire home and the square footage. Hurricane ties and straps need to support the weight without breaking. The last thing to consider is the type of joints in your home and that the ties are compatible.
When wondering if you should use hurricane straps and ties in your Sanibel Island home the answer is always yes, do use them. Incorporating this hurricane safety equipment in your home renovations or rebuild is a smart plan that does not take a huge amount of effort.
For more information on real estate on Sanibel Island please contact us any time.