Weighing the Pros and Cons of Beachfront Living for Potential Sanibel Homebuyers
Posted by Holly Peeples on Tuesday, June 27, 2023 at 7:50:17 PM
By Holly Peeples / June 27, 2023
Comment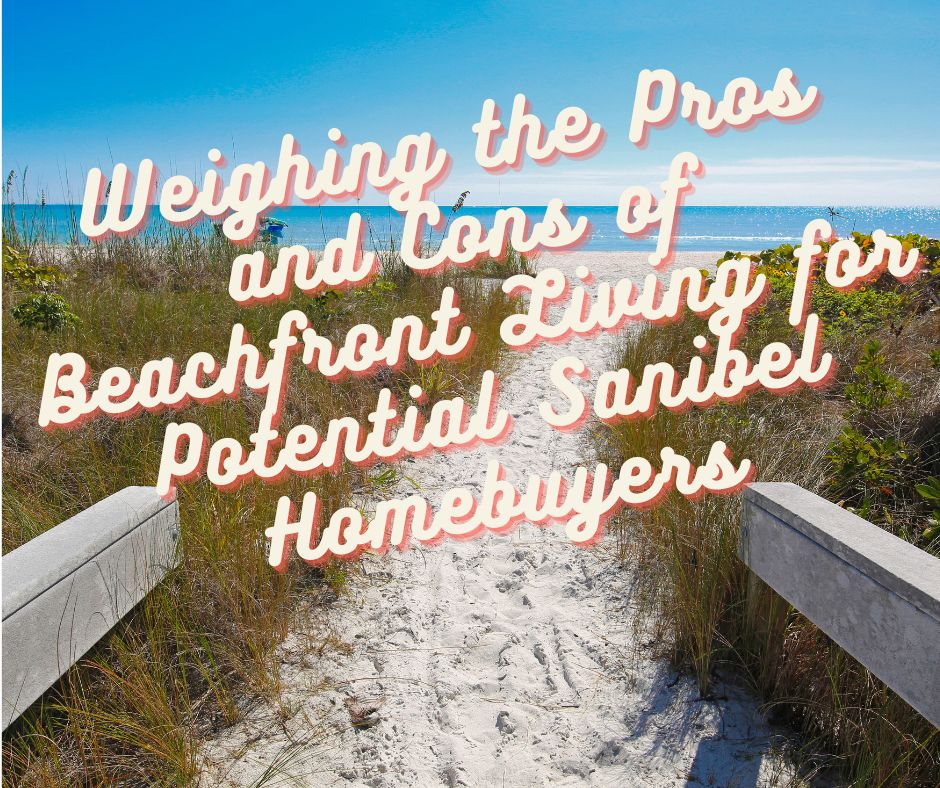 Living right on a Sanibel Island beach is a picture-perfect dream. Or at least seemingly so. No home purchase is exactly perfect even in one of the most perfect settings like Sanibel Island. There are several benefits of living right on the beach in Sanibel but there also are a few things that could be considered setbacks. It is good to consider all aspects of beach living before deciding to purchase a home right on the beach on Sanibel Island.
Living in Sanibel Island is amazing no matter the location you choose especially if you are fortunate to be able to purchase a second home on the island. But before any home purchase in any location, it is good to look at the pros and cons to make sure you are making your personal best Sanibel Island home purchase decision. And when you are ready with your ideal Sanibel location in mind, let me help you find that Sanibel home you have always wanted.
The pros of living right on the beach
Having more time to get to what you love
When you live right at the beach all you have to do is walk out your door with needed equipment in hand and get to your favorite beach activities. There's no need to search weather apps to see if traveling to the beach is worth your time or getting all the stuff packed up in your car to make sure that you have everything you will need. Everything is already there and all you have to do is look out your window to see what activity you might enjoy on the beach that day. You can come and go all day long between your house and your favorite spot on Sanibel Island without care.
Health benefits
There have been several studies that show the health benefits of living near the water and this increases when you live right on the water. There is something about the salty air and the high humidity coupled with the calming sounds of crashing waves and the beauty of the surroundings that create a healthier atmosphere. All of this together also brings you to a state of calm and happiness which reduces stress and that is huge for your health.
In addition to all of these things is the increased activity that comes with living at the beach. You instantly want to be outside and active enjoying your favorite place. There's no wrestling or forcing yourself to get up and get active you just naturally do it and benefit from being healthier with more physical activity.
Home Value
Living in an ideal location that everybody wants to be in means that your property is in higher demand and will retain a higher value. This means that it can help to build your wealth portfolio the longer you retain ownership of the house. Should you ever decide you want to move away from the beach it will be at a higher profit as compared to other types of real estate because your home is in the most desirable location on the island.
A few drawbacks of living at the beach
It is hard to imagine that there could be anything that might not be so great about beachfront living but as we said no home in any location on the planet is going to be completely perfect. That being said here are a few of the downsides.
Homes cost more
A beach home retains a higher value and brings the owner a larger profit but on the other side, it can cost a Sanibel homebuyer more money to get started in beachfront home ownership. The many benefits of living right on the beach will come at a higher price. There is always a cost for easy convenience and a beach home is no exception.
An increase in maintenance needs
With a location in an area where the weather takes a bigger toll on the structure of your home and your landscaping your beachfront property will require more attention and maintenance as compared to a home that is further inland. Beachfront homes require more upkeep when it comes to painting, pruning, pressure washing, washing windows, and preventing rust, combating wind damage, and more. Being right on the coastline makes your home much more susceptible to the natural elements.
The weather
While the weather is almost always warm and sunny in southern Florida and the beach is the perfect location there can be some drawbacks to the weather. Coastal areas are more prone to natural disasters and have a high possibility of stormy weather including high winds and actual hurricanes. And the areas hit the hardest are often those right on the coastline.
Living in any location on Sanibel comes with pros and cons even right at the beach in the most picturesque and seemingly ideal locations on Sanibel. That being said many beach lovers find that the benefits far outweigh any of the drawbacks and begin their Sanibel Island home search with us
Don't hesitate to get in touch with me anytime I'm here to help you find your ideal Sanibel Island property.