You Don't Want to Miss This Year's Island Hopper Festival!
Posted by Holly Peeples on Monday, September 5, 2022 at 9:45 AM
By Holly Peeples / September 5, 2022
Comment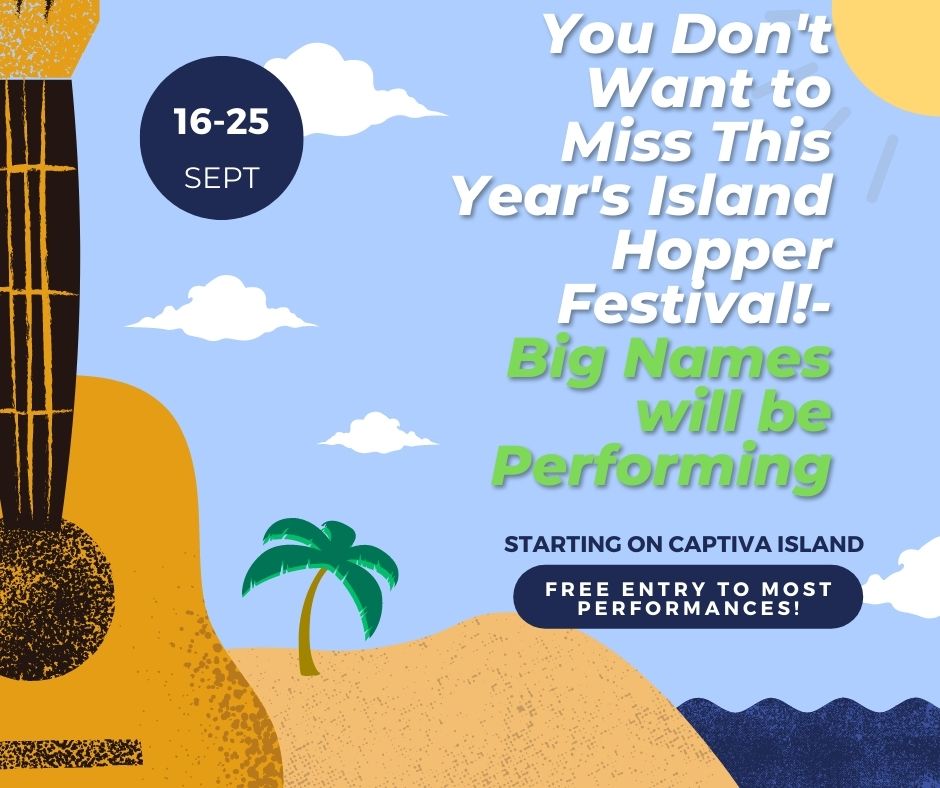 This year's Island Hopper Songwriter Fest is right around the corner and you want to make sure that you do not miss it! Every year the festival brings in the greatest singer-songwriters from around the nation and this year will not disappoint. There are some very impressive performances from big names scheduled. And what is even better is that the venues are small allowing you a more immersive experience. As always the Island Hopper Songwriter Festival kicks off on Captiva Island.
This popular and can't-miss music festival is broken into three locations over a 10-day period and the first is Captiva Island from September 16-18. The festival will then move onto downtown Fort Myers from September 19-22. It will cap off in Fort Myers Beach from September 23-25. In addition to having amazing performances and the best venues to enjoy them from is that a majority of the performances are free. There are a few ticketed events including the headliner shows. Read further for all of the details and insider information on enjoying this amazing music fest.
A guide to the 2022 Island Hopper Songwriter Festival
You can check out the full schedule of events at the festival website, here is the schedule for the first kick-off day of the festival on Captiva Island. All of the first-night Captiva Island shows are free.
Friday, September 16 Performance Line-Up
Brooke Eden and Sheena Brooke performing at South Seas Island Resort at 6:30 PM
Frank Myers and Reed Foley performing at Tween Waters Island Resort and Spa - poolside at 7 PM
Carlie Tefft and Barbara Chamberlin performing at Key Lime Bistro at 7 PM
Sam Munsick and Brinley Addington performing at the Mucky Duck at 7 PM
Matt Warren and Nelson cade and Rick Ferrell performing at the Green Flash at 7 PM
Jay. Robert and Peter Coulter performing at RC Otter's at 7:30 PM
Shane Stevens and Tim McGeary performing at Doc Ford's Rum Bar and Grill at 7:30 PM
Christina Christian and Jann Klose performing at Tween Waters Island Resort and Spa-poolside at 8:15 PM
Wynn Varble and Adam Ezra at Key Lime Bistro at 8:30 PM
Tyler James Bellinger and Kyle Kelso and Bill Roemer at the Mucky Duck at 8:30
Kristian bush and Dylan Altman at South Seas Island Resort at 8:30 PM
Elston Torres and Bobby Tomberlin at the Green Flash at 8:30 PM
Manolo and Katie Lyon at RC Otter's at 9 PM
Aaron Barker and Kat Higgins at Doc Ford's Rum Bar and Grill at 9:30 PM
This is just a very small portion of all the amazing performances to enjoy packed into the first three days of the festival on Captiva Island. There of course are some performances happening at the same time so you will have to make the tough decision of deciding which ones to catch. And when you are done enjoying this amazing first three days of the festival you can also move on to the other great venues located in downtown Fort Myers and Fort Myers Beach.
Large Anticipated Headliners at this Year's Festival
Rascal Flatts with Essex County
September 25, 5pm it's a pool party with Gary Lovox from Rascal Flatts with Essex County. Gary LeVox, along with bandmates Jay DeMarcus and Joe Don Rooney, founded Rascal Flatts in 2000, and they went on to enjoy one of the most successful careers in modern country music. Essex County, Comprised of British brothers Nate, Mark and Kieran Bass, the trio is easily one of country music's most artful and nuanced groups. The band's sound is rich with tight, family harmonies, studded by multi-octave vocal ranges and broadened by sweeping country and rock influences that are showcased in songs that swing from soulful and heartfelt to holler-and-swaller.
Michael Ray is a Florida boy and has been gaining recognition with his three number one songs he will also be coming off his summer tour with country star Luke Combs who you may also recognize. His number one songs include "Kiss You in the Morning", "One That Got Away", and "Think a Little Less." Michael Ray is performing on September 23 on the first day of the festival in Fort Myers Beach at Pinchers at the Marina at Edison Ford.
Finding Tickets for Headliner Shows and Special Events
To purchase tickets for the special performances including the headliner shows you can do so only through the festival's official app that can be downloaded to your phone through the Apple App Store or on Google Play. Both of these downloading platforms allow you to download the festival app for free.
Transportation info that is good to know
Tolls
If you will be traveling on and off the islands you want to have some cash on hand when you travel to Sanibel using the Causeway as this is a toll fee road. It will cost you six dollars.
Modes of transportation to get you to the Captiva performances
Bicycling is one of the most popular modes of transportation to get around the islands. If you are staying anywhere on Captiva during the festival you can easily bike ride to the venues. There are several areas to rent bikes or segways around both islands.
If you are staying at one of the many popular resorts on Sanibel Island they are also within biking distance but it will be a bit longer of a ride. You could also utilize the park-and-ride if you are on Sanibel Island at Chadwicks Square this will take you to Key Lime Bistro, Mucky Duck, and RC Otter's.
If you enjoy a meal at RC Otters, Cantina Captiva, Captiva Pizza, or the Key Lime Bistro you can get a free ride on the S Car Go back to some area hotels or the beach.
Parking
If you decide you would rather drive, utilizing parking public lots will cost about two dollars an hour and you can pay parking machines either in one dollar, five dollar, and $10 bills, or with Visa or MasterCard credit cards. It is good to note that these machines do not make change. All handicapped parking is free.
Is also good to know that roadside parking is not allowed and that there are some restricted areas reserved for those with parking permits only. You can purchase a permit for a nonresident for anywhere from $80-$160. You can purchase these at the Sanibel's Recreation Center located at 3880 Sanibel Captiva Rd. on Sanibel Island.
Each venue will also have its own parking rules and some even have their own fee for parking. It is suggested that those hoping to utilize a car try and carpool to limit congestion and make it easier to find a parking spot.
For more information on all of the details about the 8th Annual Island Hopper Songwriter Festival 2022 you can browse the official festival website.
There is so much to love about living on and vacationing on Sanibel and Captiva Island. For more information on living here or visiting including available Sanibel and Captiva Island real estate please check out our blog or contact us at any time.