Youth Summer Camps at the Sanibel Rec Center
Posted by Holly Peeples on Friday, May 19, 2023 at 6:14 PM
By Holly Peeples / May 19, 2023
Comment
If you live on Sanibel Island, have just moved to the island, or are considering moving to Sanibel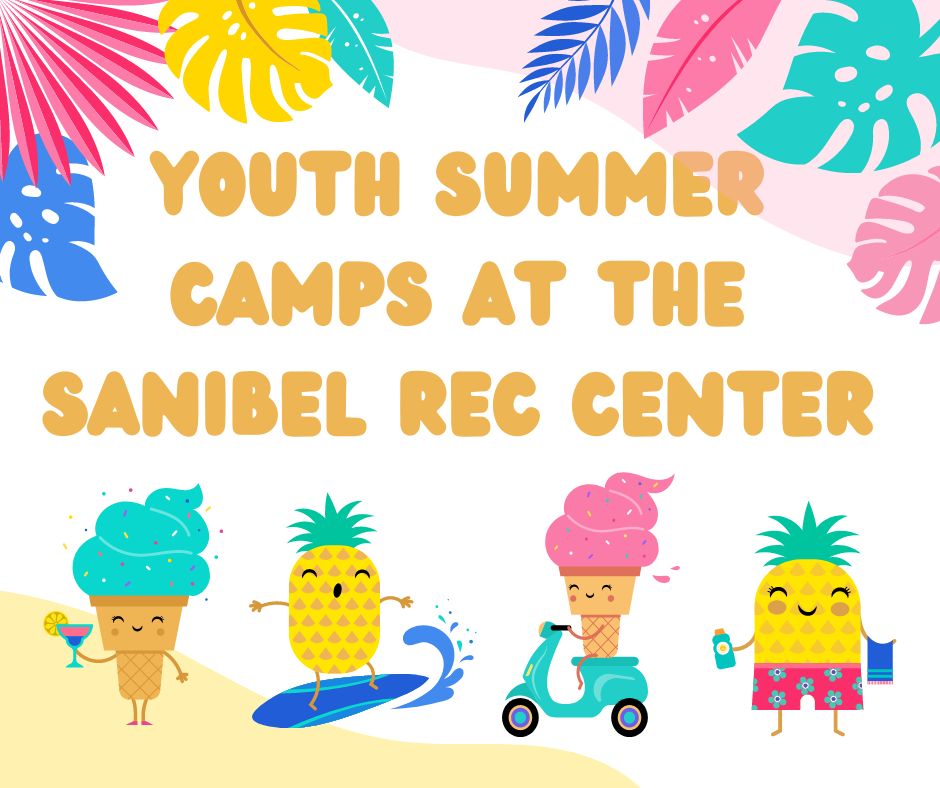 you might wonder what is available on Sanibel Island to keep kids entertained and engaged away from the television or other electronic devices during the summer.
The great thing about Sanibel Island is there is always an opportunity to enjoy the fantastic natural beauty whether it is on your own or through community programs. If you are looking for a way to keep your young school children engaged and having fun during the summer or a way to help them meet some new friends. Or maybe just provide an opportunity to have fun with friends. The Sanibel Island Recreation Center is offering weekly summer camps starting in mid-June.
Weekly Summer Camp Schedule
Camps run from Monday through Friday. Each week is a separate camp program. Camps start June 12 and run every week through July 28. It is a day camp starting at 8 am and keeps activities going almost all day long until 5:30 pm. Camp is open to kids entering kindergarten through the eighth grade.
Prices
Prices for each week vary depending upon how early someone signs up and if the person paying for camp has a membership at the rec center. It is advised to sign up for each week at least 8 days prior to camp start and as soon as possible. This will save money not having to pay a late fee and will also guarantee your spot at camp. The tuition price covers breakfast and lunch as well as the field trip for that week and other activities.
Member Fees
If you are a member at the rec center camp fees are $135 per student if you sign up earlier than 14 days before the camp start date. Camp rates raise to $162 per camper for registration between 14-7 days prior. Camp rates raise to $168.75 for registration within the week leading up to camp for members.
Non-Member Fees
If you are not a member camp fees start at $174 for early birds signing up more than 14 days in advance. Registration increases to $209 for those that sign up 14 to 7 days prior and raises to $217.50 per camper for late registration after 7 days prior to camp.
This Year's Theme and Activities
The theme for summer camp this year is "Florida". Basically, a theme celebrating how iconic summer is in Florida. The camp will include fun field trips. There will be a new exciting field trip destination each week. These field trips include farms, skating, baseball games, water parks, and Iguanaland. In addition to the weekly trip every day kids will enjoy a routine schedule of fun. Some daily activities may include inflatables, trips to island businesses, crafts that go with the theme, games, activities with the Sanibel Sea School, swimming, and golf.
Kids in 5th through 8th grade will have the chance to enjoy kayaking and paddleboarding.
What to Bring
It is advised that every camper bring a swimsuit, towel, sunscreen, reusable filled water bottle, and goggles each day to enjoy the fun. It is also a good idea to wear comfortable play clothes.
How to Register
It is advised that you fill out the required registration packet first. It can be found at this link: https://web1.myvscloud.com/images/flsanibel/youth_program_registration_form.pdf?_csrf_token=f3200fe914cb798e45590b7ba36d0b6e4a71e69f8c558e7884e8b066bc0be2b5
You can print the packet, fill it out, and bring it with you to register in person at the rec center. The rec center is located at 3880 Sanibel-Captiva Road.
If you have any more questions about camp or availability you can call 239-472-0302.
For more information on living on Sanibel Island including available Sanibel Island real estate please contact us any time.